Traditional Single Hoop Arch
£14.95 P&P
The Traditional Single Hoop Arch has our popular etched finish for a timeless look that will create a real feature in the garden. The arch is perfect for sectioning off garden areas, creating an entrance or use multiple arches to create a beautiful garden walkway.
Read More
Exclusive Designed &
Made by us in the UK
Long Guarantees
The Traditional Single Hoop Arch has our popular etched finish for a timeless look that will create a real feature in the garden. The arch is perfect for sectioning off garden areas, creating an entrance or use multiple arches to create a beautiful garden walkway.
Based on our popular Traditional Pergola and designed to complement our best selling Southwold Furniture Collection, the arch is exclusively designed and manufactured by us in the UK and comes with a 25 year structural guarantee.
Each arch is manufactured using high grade steel which is hot-dip galvanised for rust protection and then hand etched to give the beautiful antique patina that improves as the arch weathers.
The main uprights use 75mm x 75mm square steel sections finished with decorative 9cm sphere finials. The cross bars use 50mm x 50mm section and have a curved brace in the corner which looks stylish and provides additional rigidity to the arch. Floor fixing bolts are available separately in packs of 8 for the arch with 4 bolts for each footplate.
Each Arch measures 3m wide and stands 2.4m high - exact measurements are shown on the following drawing (all measurements in mm):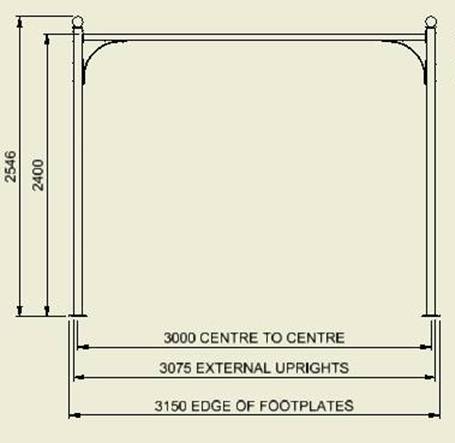 Traditional Single Hoop Arch - Handcrafted by us in Suffolk
25 year structural guarantee
High grade steel, hot dipped galvanised for rust protection
Hand etched finish for an antique appearance which improves as it weathers
Uprights 75mm x 75mm steel section - finished with ball finial
Crossbars 50mm x 50mm steel section
Attractive corner bracing for added rigidity
Floor fixing bolts available separately if required - pack of 8 for each arch, with 4 bolts required per footplate
Self assembly required
The Traditional Single Hoop Arch complements our Southwold Collection which includes Garden Furniture, Traditional Pergola, Plant Supports, Obelisk, and Trellis - view the collection here.
Be the first to write a review for this product.