Any Questions?
Our dedicated customer service team are here to help with any queries
8.30am-5.30pm
Monday to Friday
0333 400 6400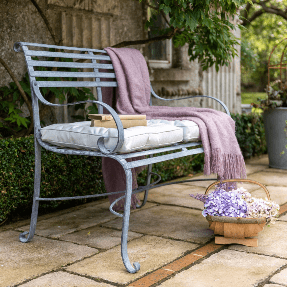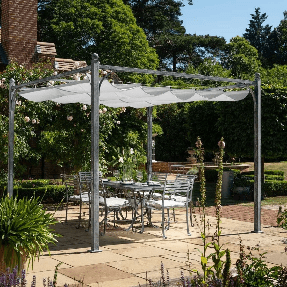 We'll call you back at a time of convenience!
Our customer service team is here to make your life as easy as possible including product advice, inspiring ideas and practical solutions for your garden.
Our customers say Excellent
4.92
out of 5 based on
1,573
Reviews

REVIEWS.io
Customer Testimonials
We pay attention to every detail, for a quality product every time
Worth it!
We saw these on-line and had doubts about purchasing without being able to see them, as we are too far from any stockists to take a look. We looked around and didn't find anything comparable, so went ahead and placed the order. Table and four chairs with cushions arrived in June and we are very glad we went for them. They are very solidly built, lovely to look at and very comfortable - even with a lab who thinks he is a lap dog joining in! Looking forward to many years of use and never needing to replace them.
Helen Turner
Superb addition to our courtyard
Beautifully made dining furniture, made in UK. Excellent quality for the price and very easy to maintain. We have used the furniture all year and even without the cushions on the chairs it is very comfortable. A number of friends have admired it and I think will follow up with a purchase for 2023. Great service from the Harrods team from ordering through to delivery. Planning to buy my son a bistro set next year.
Marilyn Thorne
Strong, robust garden table and chairs - all-weather friendly!
It is such a relief not to have to worry about ensuring our garden chairs or table might blow away in the strong winds or get damaged. Nothing is going to move these quality made items. I love the deep grey change in colour when they get wet in the rain and also that I don't have to wipe anything down or clean them as they are good to go no matter what the weather has thrown at them. They are a good investment for the future.
Joanne Godden
Dining table set
We spent ages searching for the perfect table and chair set and found it at HH. There was a slight increase in timeframes due to the ageing process having to be perfect but we were kept informed the whole way and couldn't be more pleased with the results. The quality is excellent and they complete the finishing touch to our Italian garden.
Annie
Perfect garden furniture for now and for years to come
Our garden is my little piece of paradise so finding quality furniture for it was difficult. The Southwold range has such a classic look and will last through years of wet Cornish weather with minimal care. We chose to have all chairs with arms to give comfort for our family and guests - it might have been a bit pricier but well worth it. The summer of 2022 has been fantastically warm so there's been much alfresco dining. The guys who delivered and set up the furniture were excellent and couldn't have been more helpful. Thank you Harrod Horticultural.
Janet Burnett
Our fabulous Southwold bistro table set
As you can see, mum is over the moon with her Southwold Bistro Table set, so much so that she is still enjoying it well into autumn. We chose this bistro set due to its solid, beautifully handcrafted workmanship teamed together with its timeless, elegant style which is a statement garden piece in its own right. Thank you to the team at Harrod Horticultural. I suspect mum will still be enjoying her bistro table set at Christmas!
Janice Bell
Love it!
Absolutely thrilled to bits with the bistro set. Design and quality are superb. The chairs are really comfortable even without the cushions which I also purchased. The table is just the right size for coffee and breakfast in the morning and G&Ts and nibbles in the evening. Not cheap but will outlast me!
Ellie Bee
Durability meets good looks
I was attracted to the Harrod Bistro set and outdoor dining table initially for their durability, 25year guarantee, (most competitors' garden furniture was max 3-5yrs), manufacture from British steel and the simple, elegant styling. The chairs are generous in proportion and, although I purchased seat cushions, the steel has a give to it which is most comfortable: in fact I don't think I've ever found garden furniture as comfortable. The pieces are heavy to move but hoping that their weight will allow them to be out all winter without the need to find indoor storage. Suffice to say, I am a great fan and will look to see where I can accommodate more pieces in the garden!
Duveen
Great bistro table
In April 2020 my late husband Derek and myself were due to take our son/daughter/son-in-law and three grandchildren to Madeira to celebrate his 80th birthday but this holiday was cancelled due to the covid pandemic. Instead, Derek decided to have part of our rear garden landscaped with a stone circle and slate shingle surround. Being a regular purchaser from Harrods he also purchased a circular Southwold table and 2 chairs which totally enhanced the area. We enjoyed many happy hours sitting at the table which received many praises from our family and friends. Sadly, Derek passed away in August 2021 but I still enjoy sitting in that area with very happy memories and would certainly recommend this furniture.
Val Weatherill
Bistro Set
Very informative customer service team, told us where we could view the furniture we wanted to see, even gave us an alternative near to where we staying for a weekend away. Once ordered we were advised of the lead time, 4 weeks, which was better than we had anticipated. The furniture was delivered on a pallet, very well packed and protected. The driver was very helpful and delivered to a point where we could unpack before moving into their final position.
Peter Threadgold
Southwold 3 seater garden bench
This is an excellent, comfortable and durable addition to our garden. It is very well made and attractively finished. Just perfect
Paul Walker
Southwold garden furniture
We love our Southwold furniture.It is very well designed, looks beautiful in the garden and will give us much pleasure and enjoyment for years to come.
David Stainsby
Lovely classic, fuss free bench
I bought a Southwold bench to replace an old wooden one that had rotted. I was so pleased with it I bought the side table/seat to match. I love the design and the way they are weathering and no need to pressure wash and oil like the wooden one.
Veronica Cotterill
Excellent product
After we found our wooden bench had rotten feet, we ordered a bench to replace it which matches our table and chairs we bought last year. The two-seater is quite compact but just right for a quiet contemplation watching the frogs and fish in our pond. It's very comfy and not too chilly to sit on despite being metal.
Sally