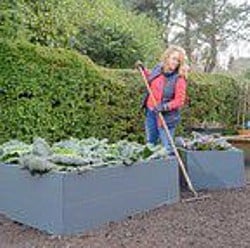 The long Easter weekend has given us plenty of opportunity to tend to the maintenance of the garden and we have been busy jet washing paving and oiling decking. The grime and algae of the winter has been washed away. Necessary and satisfying work, but time spent away from the main task of growing.
This week in Stephanie's Kitchen Garden, we will be continuing the weekly jobs of hoeing weeds and watering beds. The main beds are filling up with plants now that the brassicas have been planted out and we are keen to keep them happy in the dry conditions. Underneath the dry crust of the ground, the soil is still damp even though we haven't had any rainfall for nearly three weeks. To avoid 'spoiling' the crops with frequent watering, we prefer to give them a generous watering once a week once they are established. This week we will also be applying a dressing of fish blood and bone to the soil to keep the nutrient levels healthy.
Stephanie's Kitchen Garden is a working vegetable garden and a trial garden for product innovation, but it is also used as a photo shoot location for our catalogue and website. This week, we will be replacing some of our wooden raised beds with our new metal raised beds and planting them up ready for photography in the next month or two. We have already begun emptying and dismantling our old beds ready for the delivery of new ones on Tuesday. It's always very exciting to change areas of the garden and change the look and I can't wait to get started!