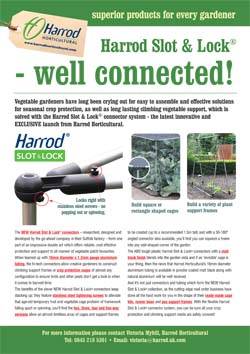 WELL CONNECTED!

Vegetable gardeners have long been crying out for an easy to assemble, simple and efficient solution to seasonal crop protection and innovative mail order garden product suppliers and manufacturers Harrod Horticultural may just have come up with the answer in the form of their new Harrod Slot and Lock® connector system.

The new connectors – researched, designed and developed by the go-ahead company in their Suffolk factory – form one part of an impressive double act which offers reliable, cut-price protection to all manner of vegetable patch favourites. When teamed up with tough 1.2mm gauge aluminium tubing, the hi-tech connectors allow creative gardeners to construct crop protection cages of almost any configuration to ensure birds and other pests don't get a look in when it comes to harvest time.

The benefits of these clever new connectors keep stacking up; they feature tightening screws to alleviate that age-old temporary fruit and vegetable cage problem of framework collapse; you'll find the two, three, four and five-way versions allow an almost limitless array of cages to be created and with a 30-180° angled connector also available, you'll find you can squeeze a frame into any odd-shaped corner of the garden.

The matt black finish of the tough plastic connectors blends into the garden vista and if an 'invisible' cage is your thing, then the news that Harrod Horticultural's 16mm aluminium tubing is available in powder coated matt black along with natural aluminium will be well received.

And it's not just connectors and tubing which form the Slot and Lock collection as the cutting edge mail order business have done all the hard work for you in the shape of their Vegetable and Strawberry Cage kits. Consisting of the framework, connectors, cut-to-size netting and ground pegs, these ultimate crop protection kits are available in a wide range of sizes and even varying height options, allowing you to keep birds off strawberries and butterflies from brassicas – and everything in between!

The Lowestoft-based company – keen gardeners themselves - have even developed a portable, free standing version of the 1.5m high Vegetable Cage which is ideal for spot protection at vulnerable stages of crops, can be easily moved around the garden and will even keep fish safe in small ponds.

With the new Harrod Slot and Lock® connector system, you can be sure all your crop protection needs are safely covered!