The second in The Royal Horticultural Society's (RHS) four-show summer schedule takes place in the sumptuous setting of Hampton Court Palace - and the showpiece garden will heavily feature Harrod Horticultural products!

The stunning Edible Garden - a cacophony of traditionally and quintessentially British fruit and vegetables along with a few newcomers - takes top billing at Hampton Court this year and the centrepiece of the formal section is one of our much admired Decorative Steel Fruit Cages.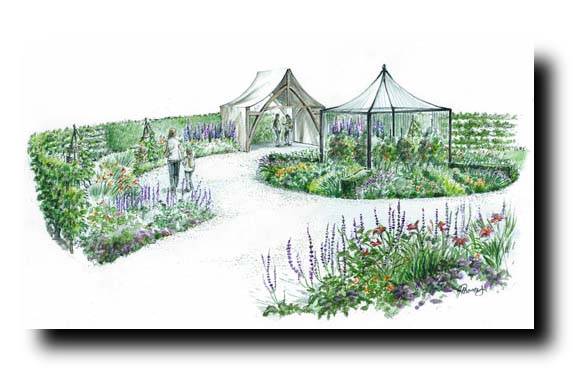 Leading into the exquisitely planted formal area you'll also be able to see five of our RHS-endorsed 1.5m wide Ogee Arches arranged around the perimeter, with both products showcasing our bespoke manufacturing capability.

There are also three 2.5m Roman Arches linked into a five metre long pergola tunnel which forms the supporting structure for a 'living willow arch' and if that's not enough, our ever-popular timber raised beds and manger planters will be popping up all over the show-stopping 1,850 sqm (19,913 sqft) Edible Garden.

We'll also have trained staff members at the show handing out our catalogues and they'll be only too happy to discuss any of the products on show - and any in our range for that matter. We'll also have a call-back card system planned for orders so customers can enjoy the garden without worrying about filling in forms at the show.

The Edible Garden has been designed by award-winning designers Jon Wheatley and Anita Foy and their inspired planting includes hops and barley for beer making, a live willow arch, fruit and nut orchard with live bees, a cider orchard, an ornamental edible garden, a lavender field with olives trees and a vineyard. Every element of the feature has an end use, mainly edible.

In addition to the above, there is also a 'food for free' area featuring plants that can be foraged from the wild.

Tickets for the Hampton Court Flower Show are selling out fast but are still available from the RHS; the show runs from July 5th through to the 10th.