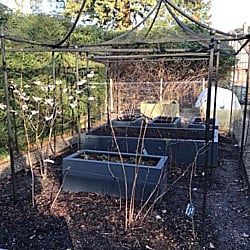 It has been quiet in the gardens this week. Monday morning was spent checking for any damage that Storm Jorge may have left, this time there was only was a few twigs and the usual pinecones scattered around, so that was good.
The new metal raised beds that have been located in the peak roof fruit cage have now been filled with new soil that is specially mixed for raised beds and the autumn raspberries and blueberries have now all been replanted in their new home. We may not get much fruit from the raspberries this year as the roots have to got to re-establish themselves as they were lifted from the ground but the blueberries may flourish as they were previously in pots.
The greenhouse is bursting into life. Under the heated propagators seeds are sprouting, the cucumbers are literally heading for the sun. But we do think we may have had a visit from a furry friend in the greenhouse. There is a seed tray with onions sitting on top of the soil, but we have noticed that some of the onion bulbs had been moved and a few are missing. We have now put a lid on top and weighed it down so there's no access for the visitor to get under and feast further on the remaining bulbs.
Elsewhere in the gardens it's a time to continue using the hoe on the various beds to keep the weeds under control. Now we are into March the roses will benefit from a rose feed which will help to promote strong healthy growth and a better quality of flower; especially with the new roses that were only planted late last year.