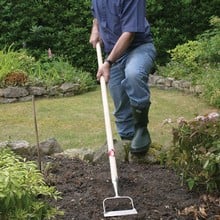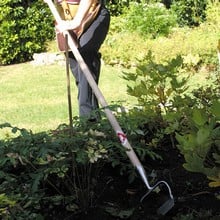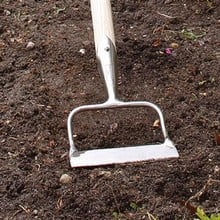 Sneeboer Dutch Hoe
£5.95 P&P
Size:
171cm Overall Length
The Sneeboer Dutch Hoe is - unsuprisingly - a design of garden hoe born in the Netherlands and now popular with gardeners around the world, thanks in the main to the forward facing 14cm wide blade which slices through established and seedling-stage weeds.
Read More
The Sneeboer Dutch Hoe is - unsuprisingly - a design of garden hoe born in the Netherlands and now popular with gardeners around the world, thanks in the main to the forward facing 14cm wide blade which slices through established and seedling-stage weeds.
The ash handle of the dutch hoe is both strong, smooth and long enough to give you enough leverage to guide the hoe on, or just below, the soil surface but this is hoeing with a smile on your face; it's not strenuous and you don't leave a furrow to show where you've been!

The overall length of this carefully designed and manufactured Sneeboer Dutch hoe - a real enemy of weeds - is 171cm.
Sneeboer Dutch Hoe measures 171cm overall
Blade is 14cm wide
Slices through weeds of all sizes with ease
Hoe blade can be sharpened if desired
Method of hoeing takes little effort
Stainless steel hand forged hoe head
Solid ash handle
Steelwork carries a 10 year guarantee
Handle carries a 1 year guarantee
18th June 2013
This is a high quality product, which works well. I like the long handle.
30th May 2013
The forged head is more solid and easier to use than the usual type. The blade is very sharp and very quickly clears the ground of weeds. The blade re-sharpens easily and retains its edge for longer than others I have had. The ash handle makes the product light and effortless.
What The Press Say
---
The English Garden
June 2014
June Shopping
With long summer days ahead, enjoy your garden with these fabulous finds - weeding wonders Sneeboer Dutch Hoe
---
Daily Mail
May 2009
This is not a glamorous piece of kit, but anyone with a veg patch or allotment will know nothing keeps the weeds down better than regular hoeing - and a good one will last a lifetime.
---