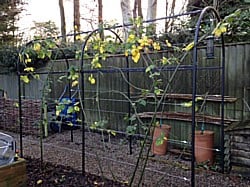 Here at Stephanie's Kitchen Garden this week we will be assembling a new support for our blackberry crop. This year the plants dramatically outgrew their existing supports and we were reluctant to cut them back at the risk of reducing the crop. Now that they have dropped their leaves and become dormant we can begin the process of replacing the support system.
This is an ideal time of year to add structural changes to your garden – particularly around fruit trees and plants as the plants are dormant and stand less chance of being disturbed or damaged.
I have chosen a linked Roman arch to create a pergola at the back of the Kitchen Garden. This will give the blackberries plenty of room to spread out. Gripple wires will be added to the framework to make it easy to neatly tie in the blackberry stems each year.
Adding new structures is always exciting and I'm looking forward to the finished result.