A bulbous perennial and a close relative of the onion, garlic is delightfully easy to grow, tastes great and takes up little room. Abundant garlic harvest doesn't take much expertise, even beginners can grow these nutritious homegrown treats. Beyond its intense flavour and culinary uses, garlic also works in the garden as an insect repellent and has been used for centuries as a home remedy. But best of all, this pungent vegetable offers a wide range of health benefits for those that consume it.
Did you know? There are more than 450 varieties of garlic.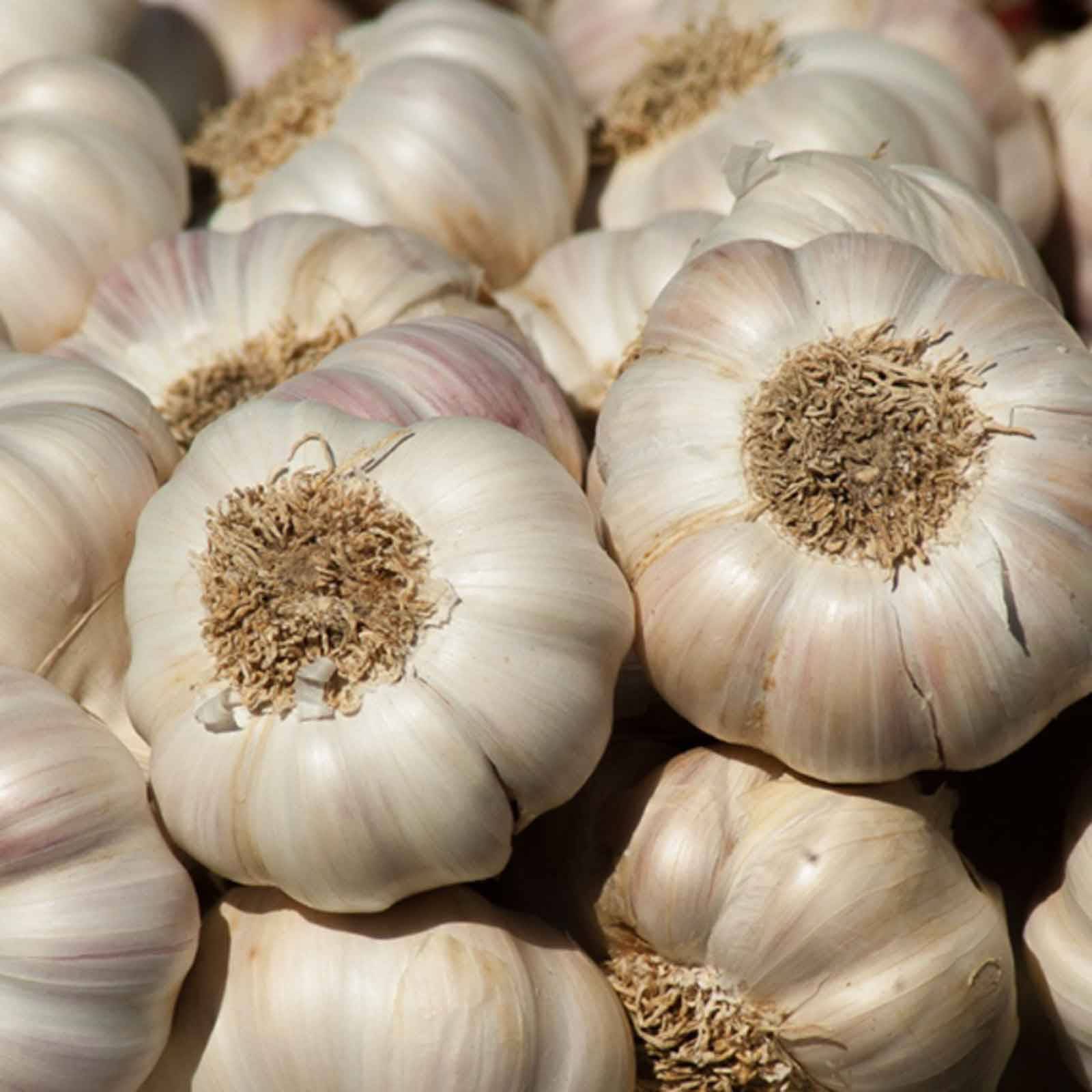 The growing process
Pick your varieties
There's a mouth-watering slew of garlic choice out there, far beyond the single varieties seen at the nearest supermarket. The varieties are typically divided into two main types – hardneck and softneck. Hardneck garlic produces fewer, larger cloves covered with a looser tonic, whereas, softneck varieties produce smaller, more tightly packed cloves. Read on and discover our pick of the crop below:
Elephant
This variety can grow, with adequate water, to 140mm in diameter, dwarfing the usual culinary garlic cloves in size. The taste is far milder than traditional garlic, making it ideal for roasting and casseroles.
Germidour
Fast growing and reliable, Germidour comes from French production that is well adapted to UK conditions. This softneck variety produces large bulbs with a mild, yet rich flavour.
Extra early wight
A large white hardneck with a crisp, fresh flavour. An autumn sowing will produce tasty bulbs from late May, beating other varieties by weeks. Once harvested, it stores well up to late November.
Carcassonne wight
An exceptional, pink cloved hardneck variety that is perfectly suited to UK conditions. It is widely considered the most successful of all hardnecks, with a strong flavour and an exceptionally fine bouquet.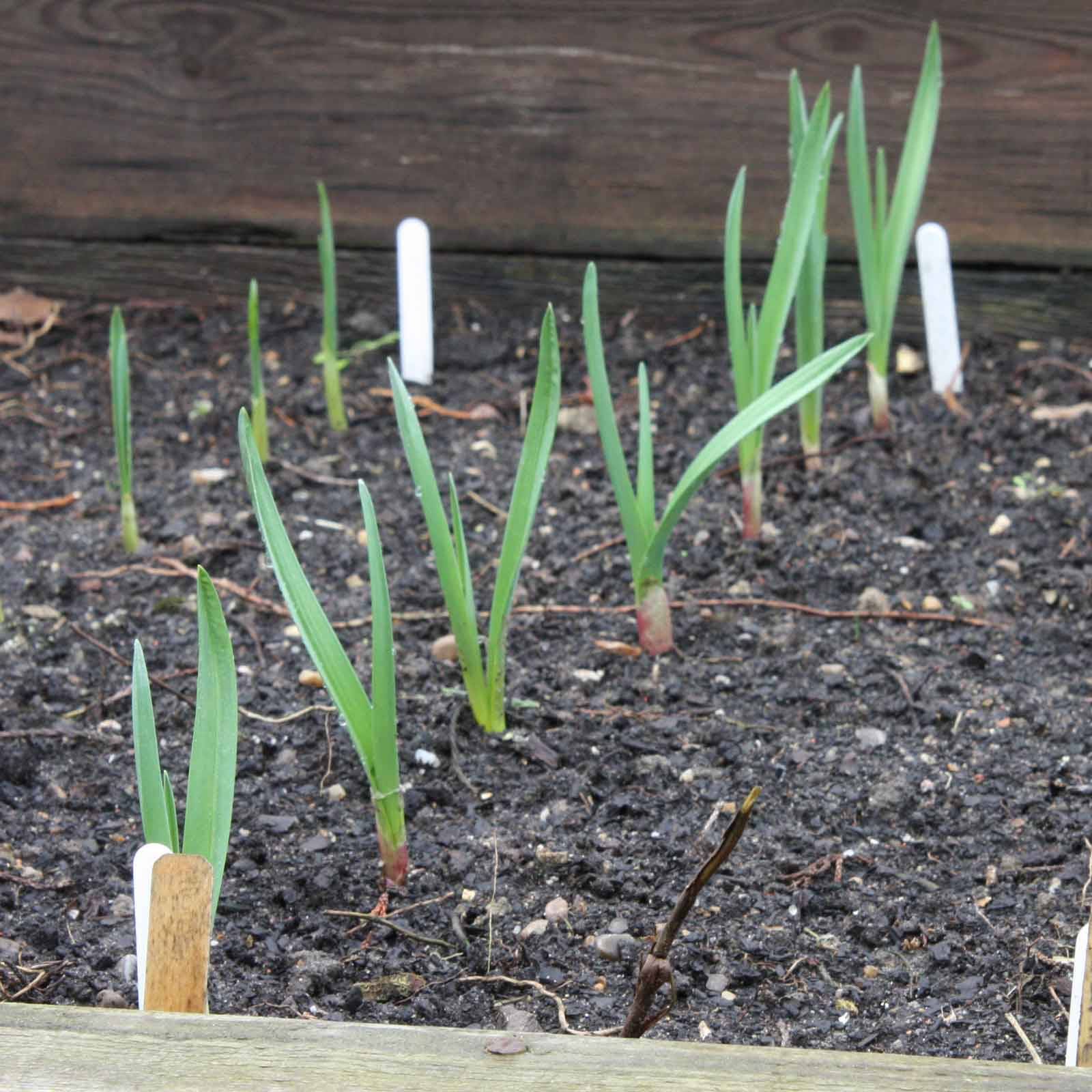 Sowing
You can plant garlic in autumn or spring. Place the cloves in the soil with their tips around 2.5cm (1in) below the surface. Space them about 15cm (6in) apart. Keep rows around 30cm (12in) apart. If the weather is particularly wet, start the cloves in modules in a greenhouse or under a cloche until the weather conditions approve.
Garlic care advice
Before planting, ensure you remove any sign of weeds, which will rob garlic of nutrients and moisture.
Prepare your soil well. Mix in lots of good compost long before you intend to start planting.
Make sure to water your garlic during dry periods throughout the growing season. Though, be careful to avoid getting the leaves excessively wet.

Harvesting
The time to harvest garlic is when the leaves start to turn yellow. Lift the bulbs from the soil as soon as the leaves wither, so the plant doesn't put on any secondary growth, which could weaken the bulb. Carefully dig up the bulbs with a fork. Handle them gently, as bruising can reduce their storage potential.
Lay out the harvested bulbs on trays and keep them somewhere warm and dry. Once the soil on the bulbs has dried, brush it off and keep the bulbs in a cool, dry place.
Tip: do not wash garlic or remove the bulb wrappers after harvesting. Washed garlic can accumulate extra moisture that may lead to fungal infestations.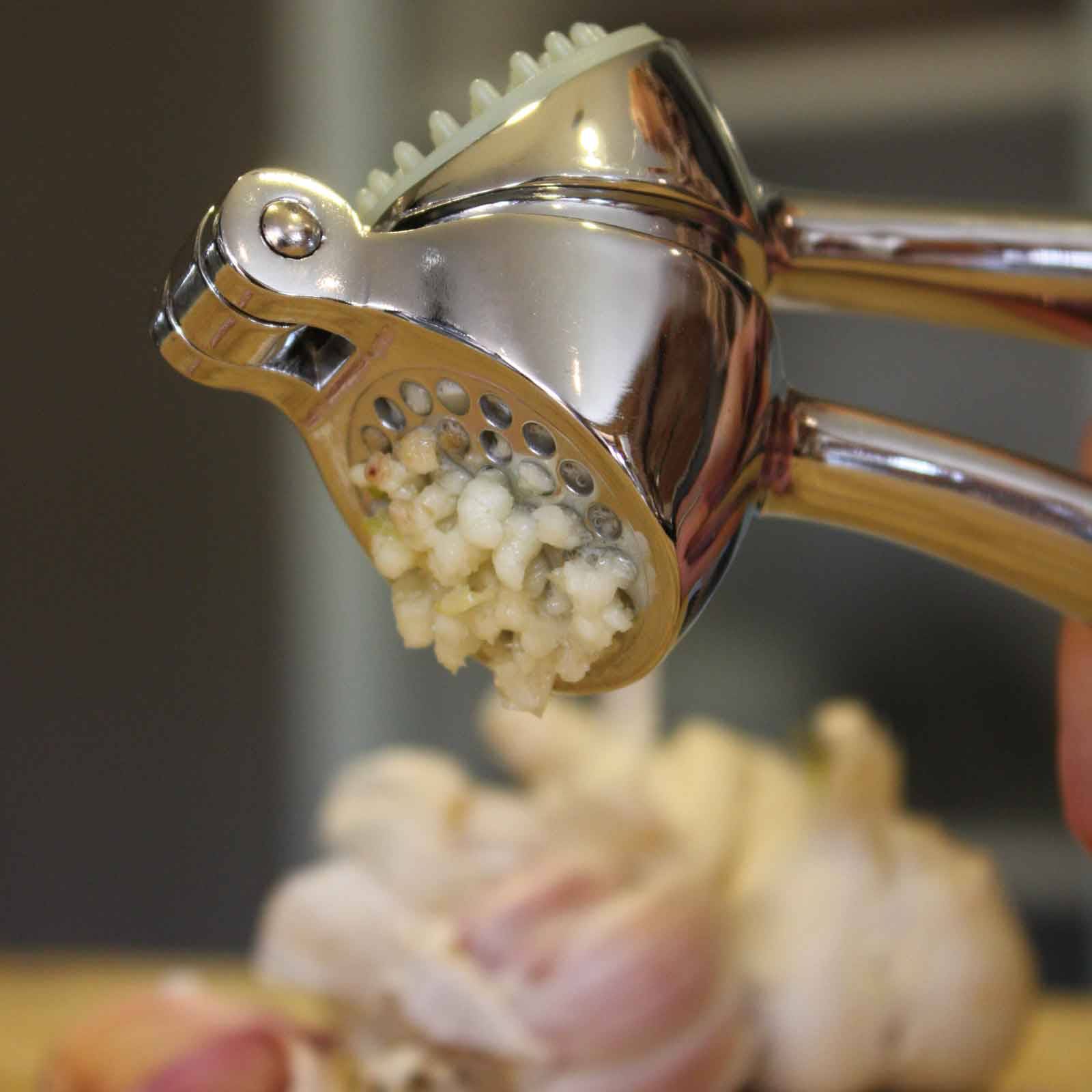 Other uses for your surplus harvest of garlic
This little bulb can instantly liven up just about any dish, so here are some easy, yet delicious methods to help put your harvest to use.
Garlic butter
Perfect on everything from potatoes to bread, this butter recipe will soon be a staple in your home. Chop parsley, chives and garlic and add to a bowl. Add lashings of butter and mix to make sure
everything is combined well. Simply spread on warm bread and enjoy!
Spicy pickled garlic
Surprisingly, pickled garlic is nowhere near as strong as you'd expect. Pickling mellows the taste, making it a delicious condiment for any garlic lover. To make, bring a large pot of water to a boil, add your cloves and cook for 30 seconds. Remove your cloves and peel. Add your garlic to a glass jar along with your chillies. Combine vinegar, salt and sugar in a bowl and stir until the salt is fully dissolved. Pour the liquid into the jar, ensuring all cloves are covered. Add your pickled garlic to the fridge and make sure you wait a month before tucking in.
Minced garlic
Is there anything more convenient than having minced garlic to hand? We think not. So why not mince your leftover cloves and store them in the fridge ready to use in an abundance of dishes. Make sure your cloves are peeled and then add them to a blender. Pulse to your desired consistency. Store your minced garlic in an airtight jar with enough oil to cover the garlic.
Oven roasted bulbs
Devour the caramelised cloves directly out of the heads, add them to pasta dishes, or mash them up and spread over bread. Preheat your own and remove the papery outer layers of your bulbs. Remember to leave the individual skins intact. Slice ¼ to a ½ inch from the top of the cloves. Place your garlic on a baking try and drizzle generously with oil. Cover the bulbs with foil and bake for 30-40 minutes. Allow the garlic to cool then squeeze from the skins.