Jimmy's Farm
Posted on 20th June 2012
Jimmy's Farm, Ipswich
If you are interested in food, farming, gardening or just the natural world then Jimmy's Farm, on the outskirts of Ipswich in Suffolk, is the place to head for.
Established by celebrity pig farmer Jimmy Doherty, the farm now boasts a restaurant - housed in a restored 200-year old barn - woodland walks, a butchery, a hectic schedule of countryside and cooking events, various gardens - and two Harrod Horticultural fruit cages!
With so much to see and do at this celebration of rural life, the best place to start are the three gardens - Herb, Vegetable and Darwin - with our two 7.5m x 2.5m Decorative Steel Fruit Cages, complete with 2.5m square peaked roof, unsurprisingly positioned in the vegetable garden.
JIMMY'S FARM
Pannington Hall Lane, Wherstead, Ipswich, Suffolk IP9 2AR
OPENING TIMES
Normal opening times are 9.30am to 5pm everyday but to make sure the attraction you want to see is open or running, please check the specific opening times.

You can contact Jimmy's Farm on 01473 604206 or vist the website for full details of opening times, admission prices and special events.

DIRECTIONS
Google Maps will take you straight to Jimmy's Farm.

Harrod Horticultural products currently on display at Jimmy's Farm are;
Decorative Steel Fruit Cages
GFC-128
Steel Square Obelisk
ARC-129
Steel Pyramid Obelisk
ARC-130
Vintage Square Wire Obelisk - Matt Black
*PLEASE NOTE THAT NO PRODUCTS ARE FOR SALE AT THE GARDEN SHOP
The following is a picture from Jimmy's Farm showing the fruit cage full of berries...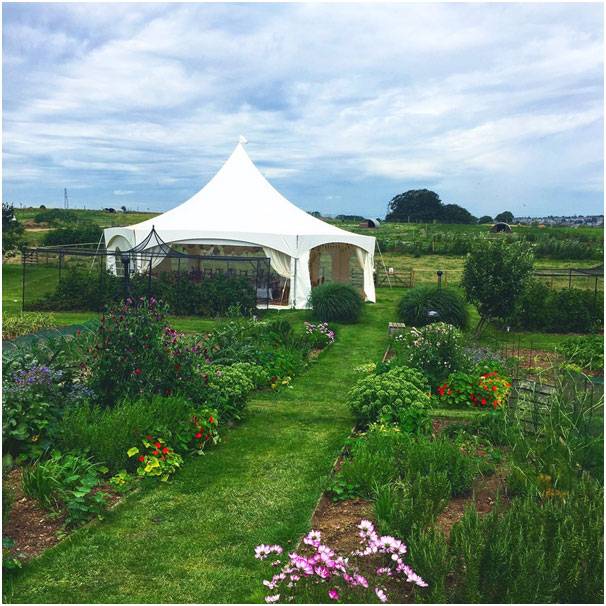 Back To Top