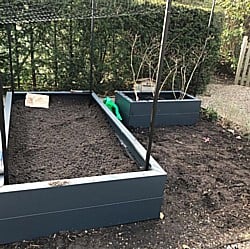 It has been an exciting week in the kitchen garden, we have installed the new superior raised metal beds in the fruit cage. These are to be the new home of the autumn raspberries and the blueberries.
We have added an autumn raspberry support frame to support the raspberries which looks very stylish in the raised bed and it will give some much needed support when the fruit appears. We are transplanting the existing raspberries into the new bed so they may not provide a bountiful harvest this year as it will take a season to for them to establish themselves but hopefully future seasons will provide larger yields.
The blueberries have started to be transferred into the new beds we have planted these in ericaceous soil. The new beds should give their roots a little more room to grow as they had become a little pot bound.
The strawberries have now been planted into their new positions in superior raised beds,. Again these will take at least a season to get established so not expecting much fruit from them this year either but they should be very productive in years to come.
This week we have sown the first of the spring onions and these will be sown successionally to give us a regular supply throughout the season. We have also planted our main crop onions We aren't growing quite as many of these this year as we have decided to grow more shallots instead.
More seeds have been sown in the heated propagator in the greenhouse. wW have sown quite a selection of tomatoes this year; Golden Sunrise, Clementine, Red pear, San Marzano 2, Yellow pear, Costoluto fiorentino and Westland Wells Cabbage.
We have harvested spinach and sprouting broccoli this week. The broccoli is a bit disappointing but the soil is a bit tired now from last year's crops.