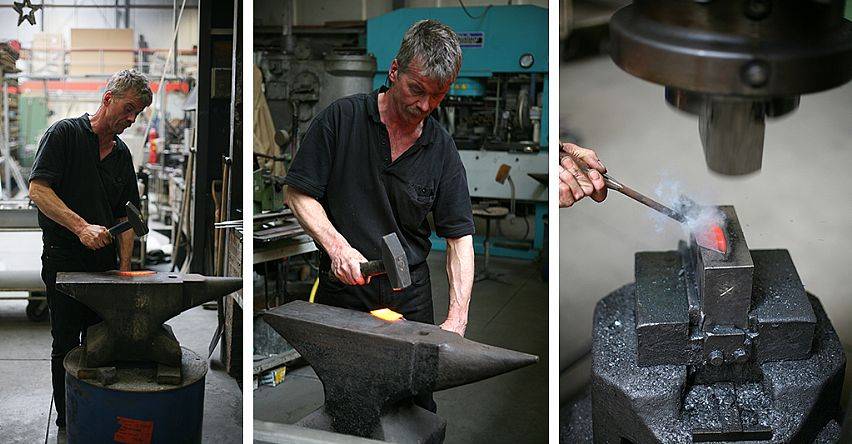 There is something deeply evocative surrounding the traditional hand forging of tools. The heat of the forge, the smell of the coal furnace and the sound of molten steel being hammered into shape all take us back to a time long past, when tools were hand-made and lasted for decades. But are these wonderful noises and smells resigned to history? In most places yes, but in a small corner of Holland they are very much alive.
It was back in 1913 that Arie Sneeboer established his forging workshop in the small town of Bovenkarspel, situated in the West Friesland area of the Netherlands. The forge amounted to little more than a garden shed but Arie had realised that the market gardeners of the surrounding area need high quality products, both guaranteed to last and able to cope with the peaty and clay soil.
The modern day Sneeboer factory is under the ownership of one of Arie's grandsons, Jaap Sneeboer. Jaap is the 3rd generation of the family and he oversees the 900sqm site with his wife Wilma. There are two forges operating and coal is still used to produce the heat as Jaap says this produces better results. The tools are made on four anvils, one for each fire, and the molten steel is shaped by sledge-hammers. Remarkably the oldest hammer, which dates from 1920, is still used today. View the Sneeboer How it Works video here.
The factory produces in the region of 3000 perennial spades per year and over 2200 potting trowels, and the Sneeboer range features around 140 different types of implement - this figure does not include the various sizes of each tool - so as you can see, the 96 year old hammer is kept busy.
Although the Netherlands has a rich horticultural history, many of the tools Sneeboer produce end up all over the world. Here in the UK, many of the celebrity gardeners, along with green fingered members of the Royal Family, use the tools. The New Old Dutch Style Planting Trowel is a firm favourite of Monty Don. In 2013 Sneeboer had their proudest day when they were appointed the honour to carry the label "By Appointment to the King of the Netherlands". This status is awarded to small and medium sized businesses that have existed for at least 100 years, and who have a good reputation regionally.
As Jaap Sneeboer regularly says; "Anyone who has ever had a Sneeboer tool in their hand will never want to use anything else…". Stephanie Harrod, Managing Director of Harrod Horticultural says "We are proud to supply this prestigious, family run product range to the UK gardening market and this is our tool range of choice for our own Organic Kitchen Garden." Harrod Horticultural stock Sneeboer spades, forks, rakes, hoes, weeders and bulb planters in their mail order range.