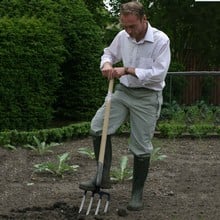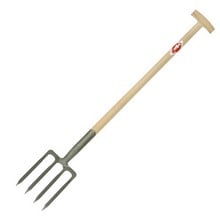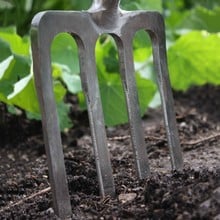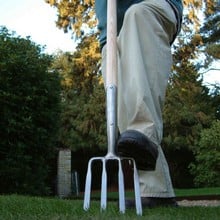 Sneeboer Digging Fork
£4.95 P&P
Reckoned to be the best Sneeboer have ever produced, this Digging Fork is lighter than previous models (it weighs in at 2kg) but is heavy duty enough to cope with digging over the largest of beds.
Read More
3 Working
day despatch
Reckoned to be the best Sneeboer have ever produced, this Digging Fork is lighter than previous models (it weighs in at 2kg) but is heavy duty enough to cope with digging over the largest of beds.
The overall length of this ergonomically superior digging fork is 117cm and the 24cm flat tines will slice through the most compacted soil.
Sneeboer Digging Fork boasts 24cm long flat tines
Weighs only 2kg
Times measure 1.5cm wide
Distance between tines is 3.5cm
Designed to slice through the most compacted soil
18.5cm wide head allows a good quantity of soil to be turned over
The overall length is 117cm
Steelwork carries a 10 year guarantee
Wooden handle carries a 1 year guarantee
26th April 2017
Strong: excellent quality: light to handle: deals with heavy soil easily: what more could you ask for from a garden fork? OK - so it costs ?100 -but what an investment.
14th December 2016
A real pleasure to use . Less heavy than the average model but with plenty of strength . The longer handle also improves the ergonomics .
What The Press Say
Kitchen Garden
2013-10-08
Top 10 tools
This fork has a long handle that helps reduce pressure on the back when digging. A bit expensive, but it is beautifully made and will last for decades if well maintained (it's a good idea to oil the handle). The broad flat tines are good for general digging jobs and cause less damage when lifting root crops. This tool has become a real workhorse in my garden.
Kitchen Garden
2012-02-04
Digging the Dirt - Joyce Russell puts digging tools to the test
Shorter tines than many forks, and good to have a longer hande. Flat tines are good in a general digging spade.