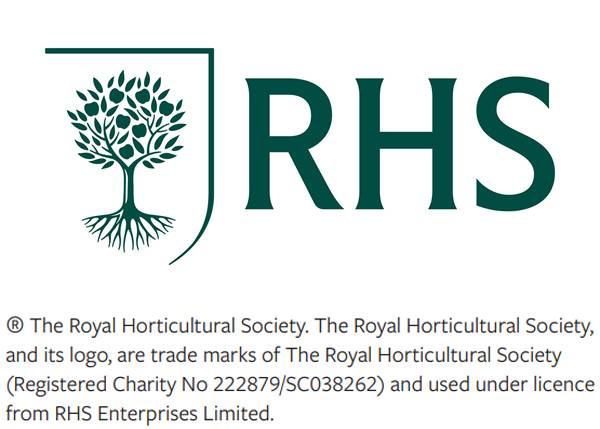 The Harrod Square topped Garden Arch design with its clean and simple lines brings a very modern, sleek focal point to small or large spaces. Use individually or space several arches apart and link them together with steel bars, galvanised steel wire and steel gripple tensioners.
A Harrod Square Garden Arch is particularly suited for climbing ornamentals, vegetables and fruit trees. It is often the case that a single arch is not enough. Multiple arches can be used to create a stunning tunnel effect in your garden, sure to be a real garden focal point.
With the top quality materials used in this steel garden arch, you can be sure it will be around for years! As well as the pre-galvanised extra strength 1.5mm thick x 25mm square steel with a matt black powder coated finish, the RHS endorsed Square Arch boasts flush fitting plastic-capped steel connectors and black stainless steel bolts, and with numerous fixed width, height and depth options, from 1.0m wide to 3m wide and heights from 2.13m up to 2.50m, you'll have no problems spanning a pathway or bed.

Like the other stunning Harrod garden arch designs in our range the square garden arch is designed to be installed directly into the soil (we've provided an additional 40cm on each upright to secure into the ground along with optional floor fixing pins).

With that RHS endorsement and a 10 year structural guarantee behind it, you can be sure the New Harrod Square Arch will prove to be a valuable and long lasting focal point in your garden.
Square Garden Arch endorsed by the RHS
Designed and manufactured by us in the UK
10 year framework guarantee
Available in numerous fixed width and height options
Available in 60cm, 1.05m and 1.55m depths
Smallest arch is 1.0m W x 2.13m H
Next up is the 1.5m W x 2.13m H
Medium sized measures 2m W x 2.5m H
Large Arch measures 2.5m W x 2.5m H
The Largest Width Square Garden Arch is an imposing 3m W x 2.5m H
All measurements are external
Unique 25mm x 1.5mm wall square section steel framework provides exceptional strength
Steel Framework is fully galvanised and matt black polyester powder coated for a weatherproof finish
Black flush fitting connectors include steel inserts for greater strength and rigidity
Heavy duty black stainless steel bolts
Arch is designed to be installed directly into soil
Uprights are an additional 40cm long for securing/digging into soil
Hole former available for easy ground installation (ARC-021)
You can create a magical tunnel effect with a series of arches linked together with bars and steel gripple tensioners
Ideal for segmenting garden or framing a feature plant or structure
Self Assembly required - Full assembly and installation instructions provided
We do not provide an installation service
EXTRA OPTIONS & MADE TO MEASURE!
We are here to help with your Garden Arch Project and can offer a complete Made to Measure Service if you can't see the ideal size for your garden or require a Quote for a linked Arch System. Our Expert Design Team have previously created a Square linked arch design with an ellipse bisecting arch for multiple access points, in a bespoke design.
Visit our Made to Measure page for more information and to complete our easy online Made to Measure Quotation Form
Above Ground Fixings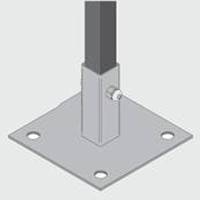 If you wish to fix your Garden Arch above ground on a concrete surface, we can supply surface mount sockets that the arch uprights can then slot into. This option costs approx 25%-30% extra. Please call 0333 400 1444 (8.30am to 5.30pm Mon-Fri) for details or email madetomeasure@harrod.uk.com
19th November 2022
I brought this to replace a cheaper arch which collapsed under the weight of the climbing squashes after only one summer. The Harrod square arch is well-made and so easy to construct that I put it together using the arch ground sockets without help.
8th March 2017
Solid construction with easy assembly. We found the YouTube video very helpful and recommend other buyers to view it.
6th February 2017
This square arch is lovely - its solid simplicity complements the garden beautifully, and the roses should thrive. Simple to construct, the frame is solid and quite heavy (for two fit 70 year olds) to lift! But we did it! Some of the side arm fixing plugs needed to be tapped back in after positioning; they had moved a little as we posioned the frame into place. Could not have done this on our own without the hole former, a useful tool for the garden anyhow.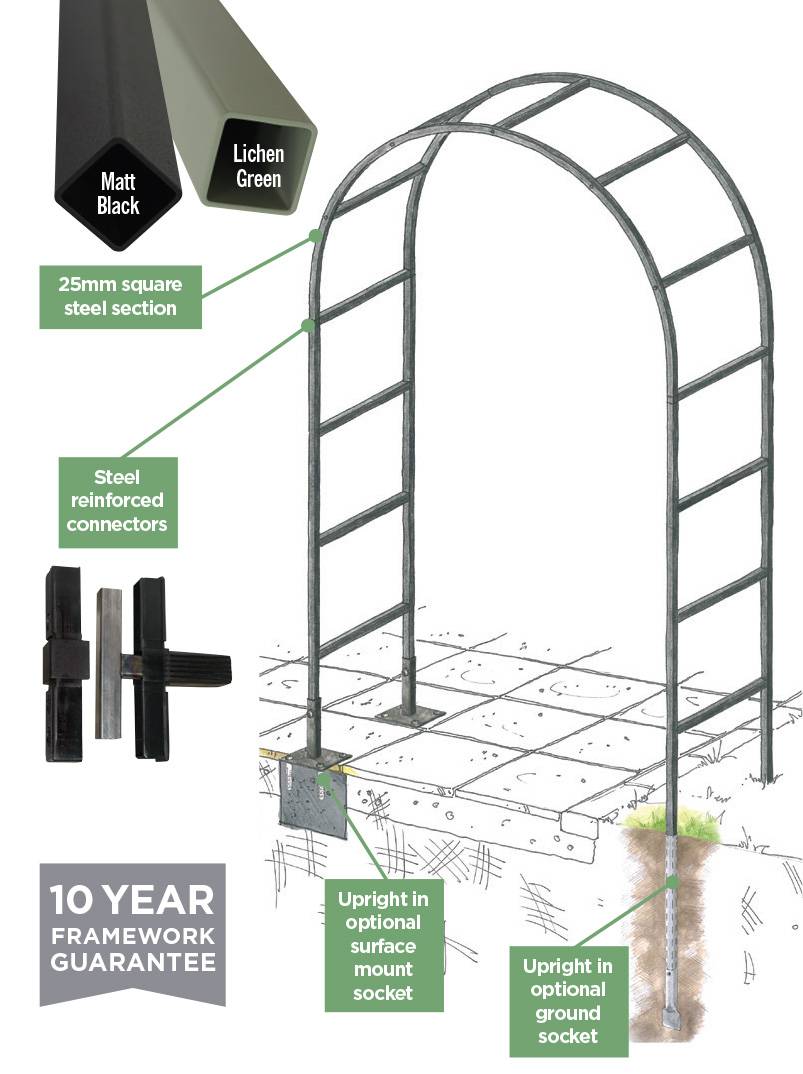 How to Link your Arches
Linked Garden Arches
A breathtaking floral arch walkway is an ideal way to gracefully lead from one section of the garden to another.

By choosing to link individual arches together, up to a distance of 3.5 metres between each one, you can achieve the visual impact of a tunelled effect from only 30% extra.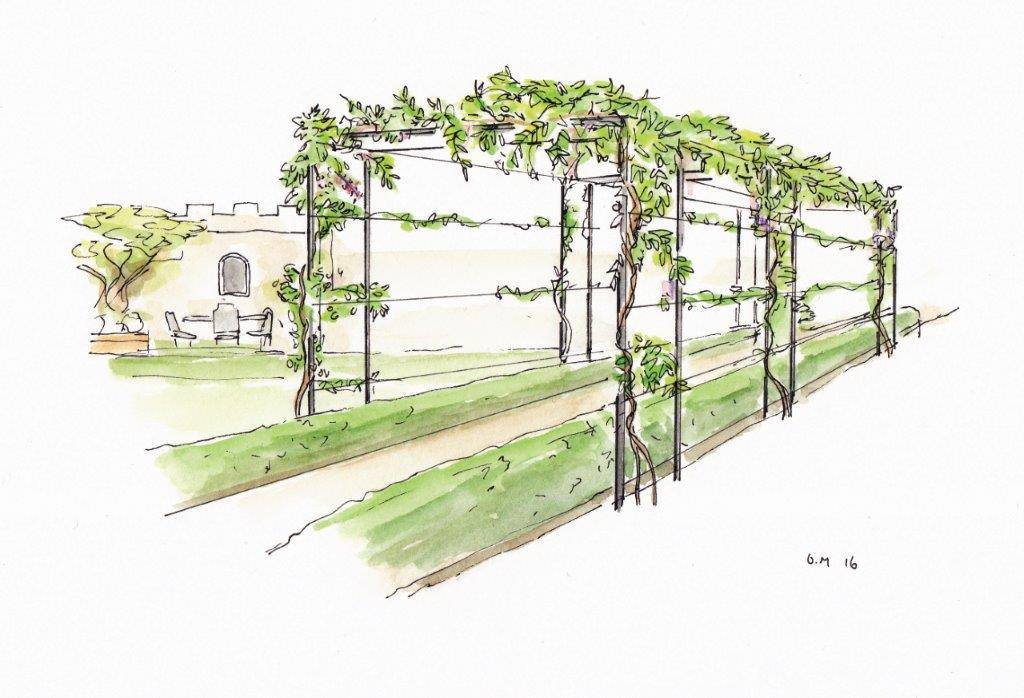 Distances can be covered cost effectively by linking multiple arches at up to 3.5m distance between each one using 3 connector bars and a 2mm diameter multi-strand galvanised steel cable plant support system. This achieves a tunnelled effect using less metal than a pergola which features a rack of uprights and connecting bars throughout.

3 Easy Steps for a Quote to Link Your Arches...
To create a stunning tunnel effect by linking your garden arches all you have to do is complete our simple Online Quotation Form, call our Expert Design Team on 0333 400 1444 (8.30am - 5.30pm Mon-Fri) or email madetomeasure@harrod.uk.com with the following details for a free no obligation quote:
Choose Your Arch Design - Roman, Gothic, Ogee, Square, Ellipse
Specify the size of the arch and the number of individual arches you require.
Measure the length of garden space you wish to cover.
How is it Done?
To link individual arches together we use 3 connector bars made from the same 1.5mm thick x 25mm square, black powder coated galvanised steel section used on the arches themselves.
In addition, each tunnel is fitted with lines of 2mm diameter high strength galvanised multi-strand steel cable that run to a maximum of 3.5m between each arch.

This cable passes through stainless steel eyelets to offer an incredibly strong and attractive support system to train all forms of climbers you choose to clothe the walkway with.
Our Expert Design Team have previously created a Square linked arch design with an ellipse bisecting arch for multiple access points, in a bespoke design.
Installing your arch on hard ground or concrete?
We can supply surface mount sockets for the uprights to slot into. These can be secured with galvanised steel pins for hard ground or special bolts for concrete.

This option costs approx. 25-30% extra.
Call 0333 400 1444 (local rate) for details. (8.30am - 5.30pm Mon-Fri)