Our delightful decorative galvanised steel rose garden arch gazebos are real artistic accents for the garden. Far from just substantial garden structures for which to train and grow a gazebo will create a year round focal point and scale in the landscape too, a thing of magnificence for you to design the rest of your garden around. Adds architectural interest to an unloved corner of the garden...
Create a romantic gazebo by adorning the 60cm/2ft wide ladder style legs of a Rose Crown with scented roses, wisteria and other scented ramblers, never having to move them and allowing them to establish for a year after year delight. By simply adding a garden bench or table set it will turn it into a beautiful place to relax and enjoy your garden too.
Uses the same high quality 1" square box section galvanised steel as our arches that is powder coated matt black.
All Harrod Rose gazebos are supplied with above ground floor fixing plates that the uprights slot into which secure in hard ground with 2 substantial galvanised steel pins per plate.
Available in two unique designs - Harrod Roman Rose gazebo & Harrod Ogee Rose gazebo.
Roman design stands 2.79m tall and is available in a 4 ladder leg or 5 ladder leg versions.
4 leg version - 3.74m diameter - 2.12m between uprights approx.
5 leg version is 3.97m diameter - 1.76m between uprights approx.
The Harrod Ogee Rose Gazebo stands 2.93m tall high and also available in 4 ladder leg or 5 ladder leg versions.
4 leg version - 3.2m diameter - 1.79m between uprights approx.
5 leg version - 3.41m diameter - 1.49m between uprights approx.
All measurements are external.
For assembling onto concrete surfaces please contact us for a quote on 0333 400 1444 (local rate) - 8.30am to 5.30pm Mon-Fri or email madetomeasure@harrod.uk.com.
Alongside our standard offering, we can design to other sizes, vary the number of uprights or mount to patios/hard standing surfaces.
Self Assembly required - Full assembly and installation instructions provided
We do not provide an installation service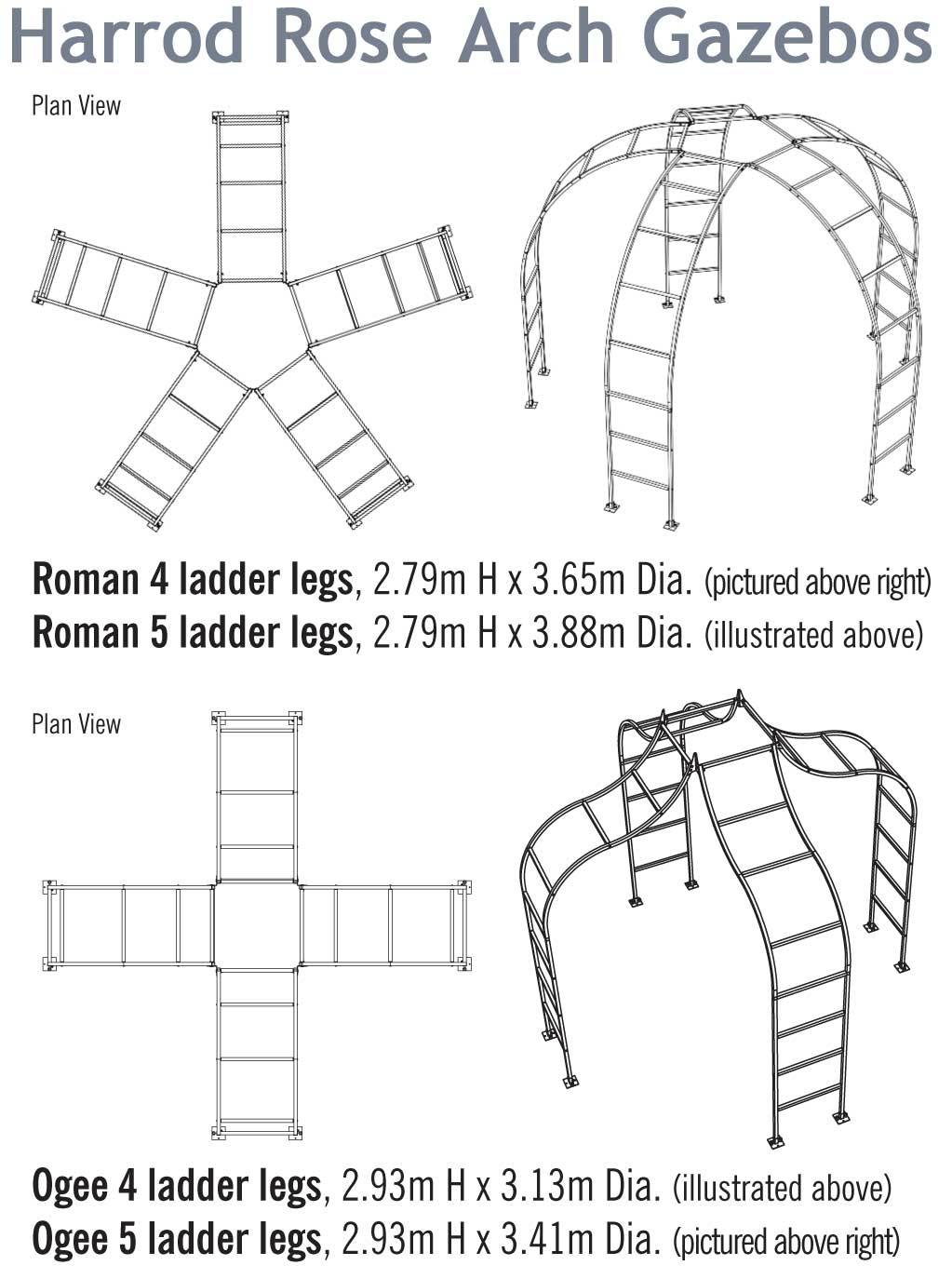 If you can't see exactly what you are looking for please contact our Made to Measure team:-
If you prefer the gothic shape our Expert Design Team have previously created a Gothic Gazebo as a wonderful central focal point to a garden, in a bespoke design.
Please note - We do not provide an installation service
9th January 2019
It was very easy to assemble and is of excellent quality. I appreciate the 10 year guarantee.
21st April 2015
We have been looking for a product that is sturdy enough to support our Rosa Filipes Kiftsgate that had been supported by a neighbour's hedge until they cut it down, but did not want something that required specialists to assemble. The Rose Crown from Harrod Horticultural fitted the bill, both in its strength, but also that I was able (with limited DIY skills) to erect the 3m by 2.5m high structure armed only with a stepladder and the assistance of my 14 year old son. I am looking forward to enjoy what will become a fantastic arbour.
22nd October 2014
Delivery was within a few days of ordering. The goods arrived very well packed. There is no online order tracking, so you don't know when the goods will be delivered. Despite being retired and usually at home most of the day, I was out for both deliveries (the long curved sections come in a separate delivery). I had left the side gate unlocked in case I was out and the parcels were carefully stored out of sight by the delivery men, make sure you put delivery instructions in when you order. The four legged Roman Rose Arch Crown was to replace wooden pergola wrecked by a falling tree. Starting late morning it was up by 5pm with a lunch and afternoon tea break. I did almost all of the assembly myself, only needing help from neighbours to fit the 4 main legs together at the top. The neighbours were impressed by the appearance and sturdiness of it and the speed with which it went up. The ground was level. If it hadn't been, then I might have needed some packing under the base plates or a bespoke version of the Arch at higher cost. Tools: There is an Allen key supplied to fit the bolts, but there are 64 of them, so it is much quicker and more comfortable to use a screwdriver set which includes a 5mm Allen key bit. Other tools you will need: a mallet to tap in the straight to the curved sections of the 4 sides, a spanner to fit the eight M8 nuts to connect the four sides together at the top, a safe set of step ladders to get high enough to do it, and a spirit level to check that the uprights are vertical. Finally, a club hammer is needed to bang the large metal pins in to secure the base plates, when you are happy with their positions. When it was all finished, I had used eight 3-way T piece connectors, but I was left with another seven, which made me double-check the instruction sheet but I couldn't see what they were for. I am looking forward to training my large Wisteria over it and it looks more than sturdy enough to take the weight. Happy customer!