It's come to that time of the year when you root around in your shed or garage amongst the cobwebs and flower pots looking for the wooden garden trellis you safely stored away at the end of last season. Once located, you prise it out in a cloud of dust only to realise it hasn't stood the test of time well. It used to expand but now the fixings have rusted and it's stuck in one position and the wood has turned a strange colour over winter. Any attempt to secure it to your wall will result in multiple splinters and a few knocks to the head when it falls off the wall because it doesn't stay in the holes it used to occupy last year. Repeat this process for the four garden trellises you own and you soon wish someone would come up with a strong, permanent, year round solution that looks good!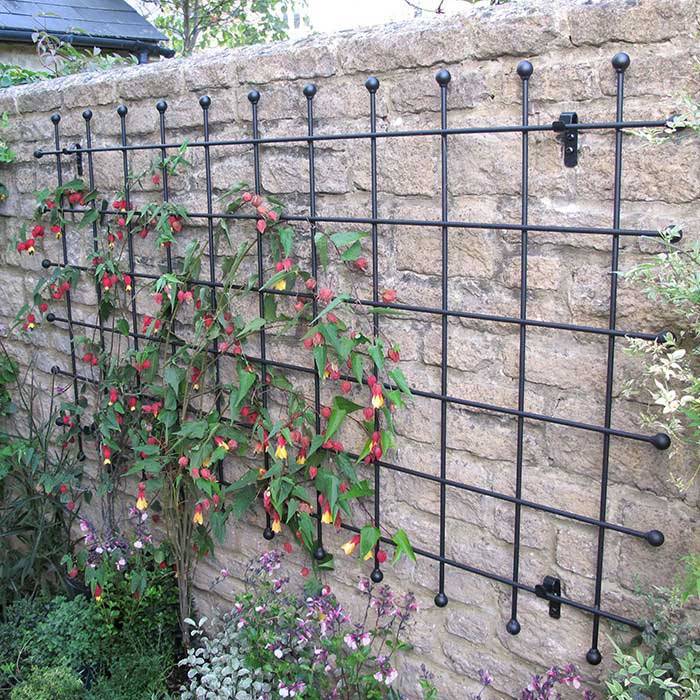 But, where can I buy a metal garden trellis?

Introducing Harrod Horticultural's Wall Trellis Panels.....

The Harrod Wall Trellis Panels provide an attractive structure to cover bare walls or fences, are maintenance free, weather resistant and made to last. They will soften and decorate your landscape, whilst being much more enduring than any timber design.
Designed and manufactured exclusively in the UK, the panels look stylish and can be easily secured to walls with the fixings included.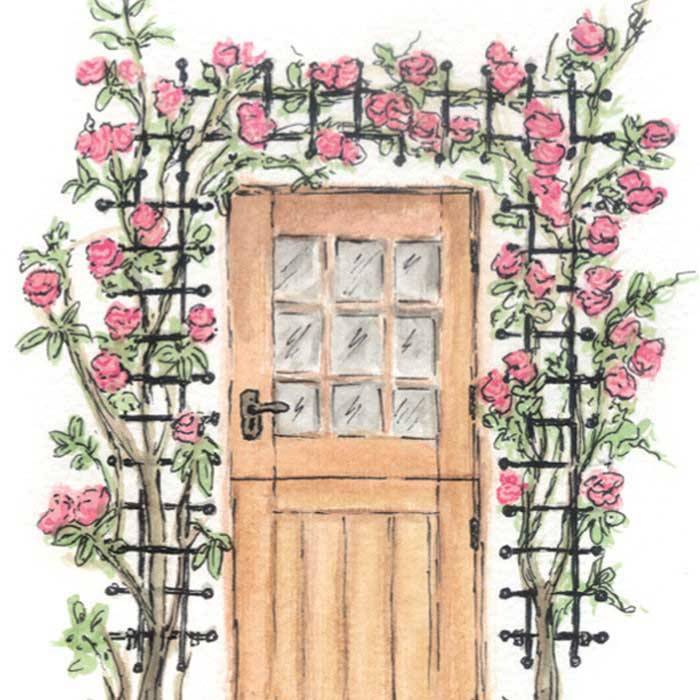 There are three designs available – our eye-catching Steel Rod Trellis Panels, wire trellis panels and lattice trellis panels.
The steel rod trellis panels are made from an impressive 8mm solid steel rod with decorative ball finials and are available in three different sizes and two finishes – classic matt black powder coated or natural rust; and we have two standard Lattice Trellis Panels (both 50cm W x 1.15m H), one made from 3mm Steel Wire and one from 20mm wide Steel laser cut from a galvanised steel sheet. All panels are fully welded in one piece, and carry our 10 year structural guarantee.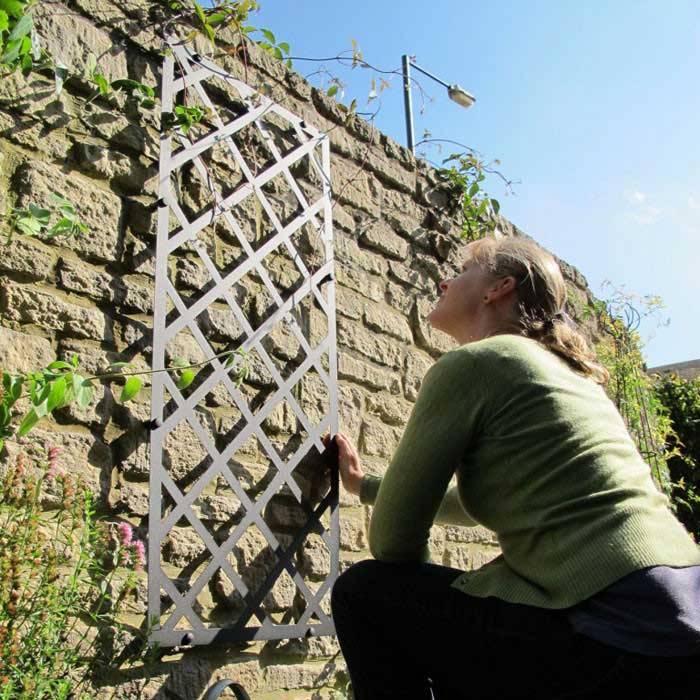 Superior Lattice Wall Trellis Panel Standard Lattice Wall Trellis Panel
Launched in 2015, the Wall trellis range is attracting some rave reviews from customers...
"A vast improvement on our wooden trellises. Looks good quality, and easy to attach to a wall."
"The quality and design of this product is outstanding. It looks great on our modern house, and seems sturdy enough to support large, heavy clematis. I had searched for a long time before I found this product; there is little else of such good design available on the market"
"A very nice looking piece of garden kit - much better than our previous wooden trellis which was falling to pieces and just not strong enough. Despite its size the trellis is not too heavy and was easy to fix to the wall by one person. Looks good at the moment and I am very happy with it so far."
Metal trellis can also create a feature of the garden when combined with an RHS Endorsed Harrod Superior Garden Arch, for a dramatic garden walkway. Available in elegant Roman or Ogee designs with half or full lattice and 10 year framework guarantee. Choose from superior panels laser cut from black powder coated galvanised sheet steel or standard panels of welded wire mesh engineered from zinc plated steel wire. For the quintessentially English look, opt for a Roman Garden Arch with standard or superior half or full lattice complete with an integral bench, adorned with sweet peas, clematis or roses. These intricate trellis panels really enhance the arch and are perfect for climbing plants.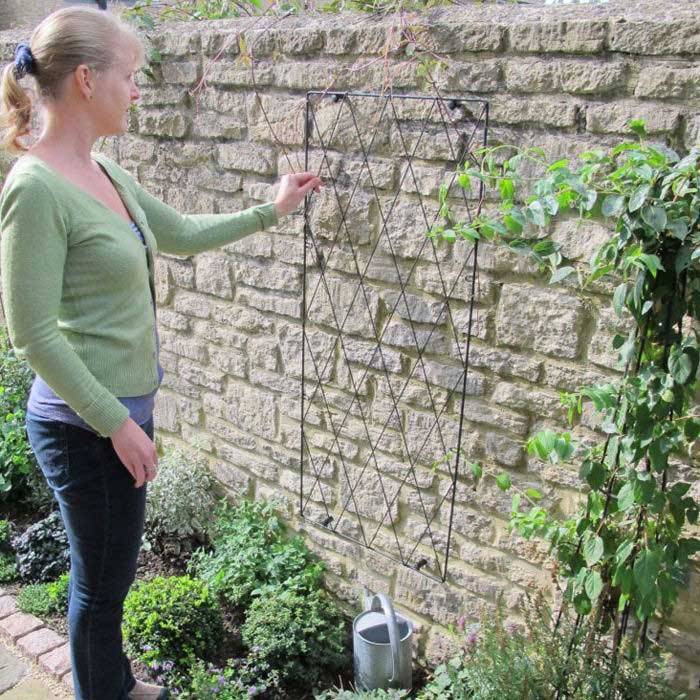 So which plants are best to grow up a metal garden trellis? There are many types of climbing plants to choose from, and your choice might be dependent upon a number of things: are you looking for sweet smelling plants as you walk through your Arch; are you looking for year round greenery on a wall; or maybe you have a colour theme in your garden that will limit your selection?
The most popular plants tend to be roses, clematis and honeysuckle, but these plants will take a while to establish and will look scruffy during the winter months. If you live in one of the milder areas of the UK and have a sunny location, you could opt for frost hardy Trachelospermum, commonly known as Star Jasmine which offers evergreen foliage as well as deliciously scented, fragrant jasmine-like flowers which will easily climb to the top of your trellis.
It will also take time for your plants to become established, so if you're looking for a quick fix to grow rapidly up your trellis, then why not consider Tropaeolum. This is an annual, commonly known as Canary Creeper that will race up your trellis displaying heavily fringed yellow blooms with deeply divided palm-shaped leaves. This will then give you time for your 'main event' plants to get established.
Which fruit and vegetables can climb up trellis? Climbing green beans, runner beans, cucumbers and even sweet potatoes can happily develop up trellis if they are tied in correctly as growth progresses. This frees up more ground level growing space, can create bigger harvests and reduces pests and disease by increasing air circulation around the plants.
Whether you choose wall trellis or a trellised garden arch, you will be making a sound garden investment for years to come!
Happy Gardening!