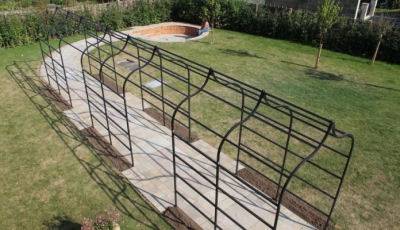 A garden pergola is a real investment and you'll want to know it's going to last and look stunning with and without plants dressing it – and Harrod garden pergolas deliver on both accounts.
Made from matt black powder coated pre-galvanised steel, each pergola carries a 10 year framework guarantee and if you think they look good before planting, imagine walking through a scented tunnel of foliage and flowers on a warm summer's evening.
The Ogee Arch Pergola has a curvilinear style that comes together in a very distinctive feature point and will offer a particularly commanding presence in any garden setting.
The Roman Arch Garden Pergola provides a structure that is simple and breathtaking and will make a real visual impact in your garden.
The characteristics of the Gothic Arch Pergola shape which has been expressed in many great buildings the world over has a powerful and emotive shape that could make an appearance in your garden supporting climbing plants and creating a stunning floral garden walkway.
Designed with our RHS endorsed garden arch range in mind, Harrod garden pergolas are offered in a range of width and length options. And as we've designed and manufactured the pergola range ourselves here in our Lowestoft base we can be sure the quality will exceed your expectations.
We are here to help with your Garden Pergola Project and can offer a complete Made to Measure Service. So if you don't see the ideal size you want for your garden please contact one of our team:
email: madetomeasure@harrod.uk.com
or call: 0333 400 1444 (local rate)
or download our bespoke garden arch & pergola form and send it to us.