When your neighbour decides to remove their 25 year old conifers which border your garden, it suddenly presents an endless array of opportunities for your garden. Mrs John explains the background behind her decision to purchase a Harrod Horticultural Gothic Pergola -
My garden isn't very big: the back of the house has a south-west outlook but for 25 years the hedgeline was adorned by my neighbour's conifers. But at the end of Feb this year, to my great joy, he decided to rip them all out. So I have lost a lot of shelter but oh boy, gained so much light and air. Wonderful!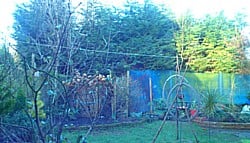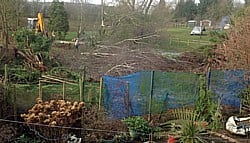 However, I felt the need of some sort of picture frame for my garden, to give me some privacy and 'hold' the thing together, and I puzzled over it for several weeks before the inspiration came. The pergola provides that frame, keeping the eyes within my own garden. I'm going to grow a few things on its lower levels but the top and front I want to keep largely as bare metal.
So how was it to put together? Well, clearly my friend and I didn't have the advantage of a nice clear flat piece of ground to start off with, or a big team of professional gardeners to do the job. We were erecting it across a small dry ditch, on a sloping plot, with no useful fixed frame of reference, up against an existing fence line and around all sorts of trees and shrubs that I didn't want to disturb or get rid of. So I guess we gave ourselves a pretty tough job. But once the first two arches were up and joined together it got easier, and by the end we had established a modus operandi that had become quite efficient and effective, and were regretting that we'd reached the end! Well we haven't actually - I need to add half a piece just to tidy it off. The uprights are set in concrete and the whole thing is very stable.
We did make some wooden templates for ourselves to help make sure that we were keeping everything parallel and to give us some extra stability. We made six that fitted across the arches, and two that fitted diagonally between one arch and the next which gave us a check that it was square. It took a while to cut them all out but it was time well spent, and I'd advise anyone erecting one of these to do the same.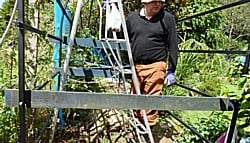 The overall design, the quality of manufacture, the fixings, were a delight. The fact that there are three different lengths of bar, all the same in section and only about half a centimetre different in length was very confusing at first, and we could easily have got it wrong. So that aspect of the prep had to be done with great care. But I'm glad I chose Harrod.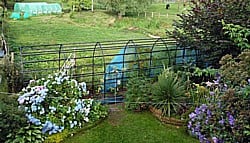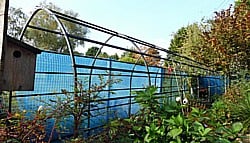 Mrs John, Shropshire