Here at Stephanie's Kitchen Garden, we will be sowing seed outside this week. In our Superior Raised Beds, we will be sowing 'Amsterdam Forcing', an early variety of carrot. These will be given protection using a PVC cover and Hoops kit to keep them warm and snug whilst they germinate.

We'll also be sowing early peas direct into the ground. Last year our peas were a disaster thanks to mice, so this year we are trying a different approach. We are going to use chicken wire laid onto the top of the soil and sow the seeds through the holes in the wire. The peas will have added protection from cloches until they are a good size and ready to be trained up our Pea Frame. We may be taking a risk sowing outside so early in the year, but given the mild weather, we think it's worth a try. Who knows, we may be rewarded with a bumper early crop!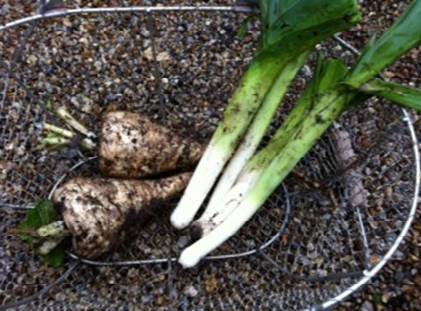 This week we will be harvesting leeks and the last of this year's parsnips. Stephanie will be putting these to good use with a couple of her tried and tested recipes: Leeks in a Thyme Butter Sauce and Roasted Parmesan Parsnips.
Leeks in a Thyme Butter Sauce:
Wash and chop the leeks into 1 inch pieces and then pop them into a freezer bag and put in the fridge for a couple of hours. Melt butter in a heavy bottom pan and add some finely chopped garlic. Add the leeks and some chopped thyme, season with salt and pepper and sauté for 5 minutes...Delicious!
Roasted Parmesan Parsnips:
Finely grate Parmesan, mix with equal parts flour and season with pepper. Spread out on a large plate. Cook the parsnips in salted water for 5 minutes then drain and immediately coat in the cheese mixture. Roast in hot rapeseed oil for 30 minutes...Enjoy!