A garden pergola will create a stunning scented garden walkway when framed with fragrant flowers and provide an excellent support for all manner of climbing plants. Designed to provide shade and filtered sunlight, a garden pergola is the perfect structure for training an array of colourful climbing scented plants.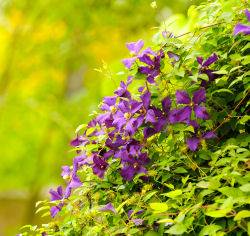 The most popular plants tend to be roses, clematis, wisteria and honeysuckle, but these plants will take a while to establish and will look scruffy during the winter months. If you live in one of the milder areas of the UK and have a sunny location, you could opt for frost hardy Trachelospermum, commonly known as Star Jasmine which offers evergreen foliage as well as deliciously scented, fragrant jasmine-like flowers which will easily climb to the top of your Pergola.
It will take time for your plants to become established, so if you're looking for a quick fix to grow rapidly, then why not consider Tropaeolum. This is an annual, commonly known as Canary Creeper that will race up your Pergola displaying heavily fringed yellow blooms with deeply divided palm-shaped leaves. This will then give you time for your 'main event' plants to get established.
There are many different varieties of climbers from evergreen to deciduous to choose from, many with magnificent flowers and scents. Although some climbing plants are self-clinging, meaning they will hang on to something and begin to climb, others do require some assistance and will need some tying in especially when they are young plants.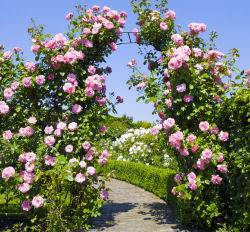 Rambling roses are particularly well suited since their long and flexible stems are easy to train up and over the pergola. Rambling roses should be routinely pruned in late summer, after their main show of lush flowers has finished. It is also far easier to prune when the rose is not in full leaf. The main difference between rambling roses and climbing roses is that rambling roses usually flower once, but climbing roses have repeat flowers throughout the summer and autumn, but there are a few exceptions.
Climbing roses should be pruned in winter and will need a more sympathetic approach. Reducing the main leaders and prune back the side shoots to about six inches. These roses will also need to be dead headed regularly to encourage more flowers.
Clematis is one of the most popular climbing plants that will look magnificent trained along a garden pergola or walkway. Clematis likes to be planted in well drained soil and will thrive in full sun or partial shade. It is always a good idea to keep the base of the plant and its roots cool with additional under planting of some shade providing plants or some strategically placed rocks or slate.
With larger pergolas it is becoming more popular to plant two climbers near the base of each pillar such as a strong-growing rambling rose with a less vigorous clematis or honeysuckle; the rose will then provide an additional support for the other climbers. A strong-growing climber such as Clematis 'montana' will in time cover the pergola and probably need some restriction but it is generally one of the easiest clematis to grow.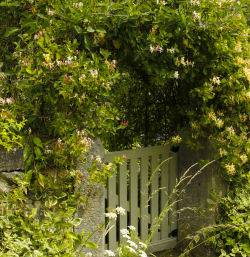 Wisterias are also beautiful twining climbers with beautifully scented violet or lavender flowers that are ideal for training up walls, over pergolas or any other other garden structures. Wisteria is a heavy twining vine that requires sturdy support making a Harrod garden pergola fit the bill perfectly. Most will begin flowering within 3-4 years of planting. After summer, established wisterias may form pendant, bean-like seedpods that will provide an additional feature. Wisteria prefers a sunny spot, but can they can be grown in slight shade. They prefer a well-drained, fertile soil.
Honeysuckles are also extremely popular climbing garden plants both for their wonderful flowers and their scent. They are easy to grow, require very little watering unless the summer is particularly dry and look beautiful draped over pergolas to create a scented garden walkway. They are mostly fully hardy and flower during the summer months. Climbing honeysuckles prefer fertile, humus rich, moist but well drained soil and will thrive in a sunny spot or partial shade. Only lightly prune plants until they are fully established when their fragrant flowers will attract butterflies to the garden all summer long.
Harrod Roman Arch Pergolas are simple and breathtaking and will make a real visual impact. While the curvilinear style of the Ogee Pergola with its distinctive point makes a very commanding presence. Gothic Garden Pergolas are instantly recognisable with their typical church window shape and would make be a stunning addition to any garden. All Harrod Horticultural Garden Pergolas are endorsed by the RHS, come with a 10 year guarantee and are perfect for creating a scented garden walkway.