We have had some windy days this week with much more challenging weather forecast for us for the weekend which will mean we will have a lot of debris to clean.
But this week has been very productive, the remaining carrots have been dug up now to make room for the bean and pea frames. A new runner bean trench has been dug and we have started to fill it. A layer of charcoal is at the very bottom to aid we water retention, some blood fish and bone added to feed the soil and next week we will back fill and add organic chicken manure pellets. The rest of the bed has had been dug over with the organic chicken manure pellets being added.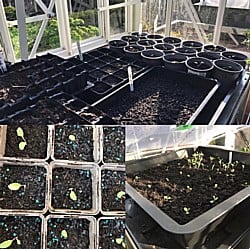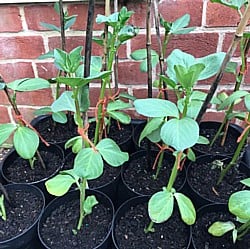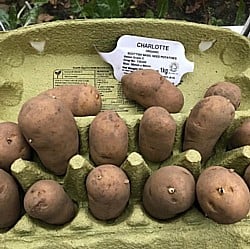 In the greenhouse we have transplanted some of the little gem Lettuce seedlings that were in the heated vitopod propagator as they are now big enough to handle and this will give them more room to grow on. The broad beans are growing and we have had to repot them from the root trainers into larger pots as they were now just too big.
Our Barcelona cauliflowers have been potted on as their roots were no longer being contained in the grow trays and we think this was affecting the leaf growth. The goodman cauliflower seeds have sprouted really quickly and were getting very long and leggy so these have been transplanted down to their first two leaves into individual pots. Hopefully this should encourage stronger plants with thicker stems that can withstand the elemnts better when they are planted out.
We have sown lots more seeds this week; Cucumber Passandra, Brussel sprouts groninger and igor, sprouting broccoli, Celeriac prinz, carrot Napoli, aubergine and a very early sowing of leeks.
We are currently re-arranging the fruit cage, it a big job but will be much better when finished. The autumn raspberries will be moved to a large raised bed, this will enable us to give them some lovely fresh compost and feed. The ground they are currently sitting in has become very compacted and tired so summer watering is quite hard. The ground doesn't want to absorb the water Although summer may seem a long way off it is best to move the plants when they are dormant; it puts less stress on them and they have a greater chance of survival. Having the raspberries in a raised bed will also help to will keep them contained to one area. As we all know raspberries do have a habit of spreading themselves out.
We are also moving our blueberries, these are currently in round terracotta pots but they have got quite large and would appreciate a little more space for their roots. Again, we are going to plant them in raised beds too, as they do like acidic soil and this way we can ensure that they only get ericaceous compost.
Both the raspberries and blue berries fruited really well last year so it is obviously a bit of a tense decision to move them but hopefully it will be the right one. We would expect this year's crop to be affected as they are going to have to work harder to get established in their new positions but the hope is, they will crop well in future seasons.
We have also decided to move the strawberries this year and the first few plants have been planted into metal troughs. The strawberries runners have been growing really well and we now we have lots of new plants. So the next challenge is to find where to put all these lovely new plants so we can enjoy plenty of nice fresh fruit in years to come.