We have had some lovely winter sunshine in the kitchen garden over the last week, and some very active squirrels who have been busy burying the horse chestnuts that are now falling from the trees. So, although the birds have left the newly planted garlic alone, I've still had to cover it in winter fleece protection so the squirrels don't disturb it while preparing for a winter feast.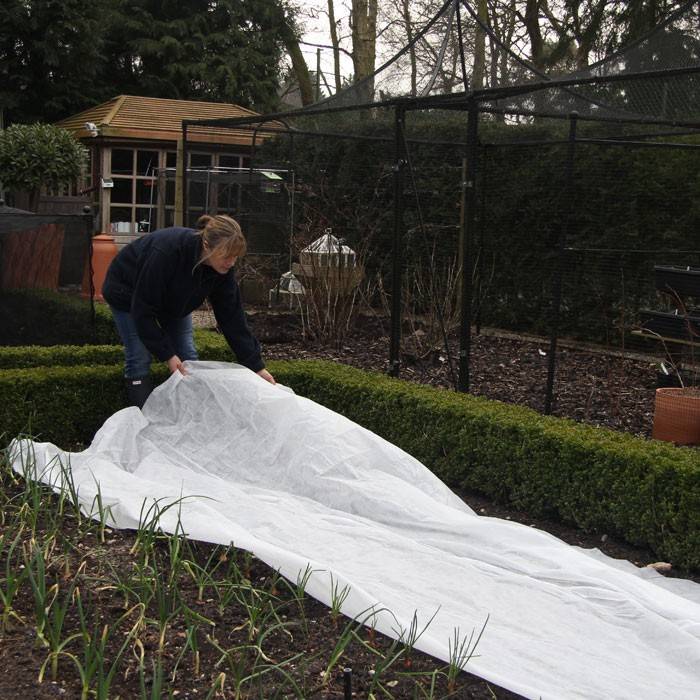 I have planted our white shallots this week in a superior raised bed and they too have been covered with winter fleece protection again to stop the squirrels from disturbing the newly planted bulbs. This is only until they get established, by that time our furry friends should have found themselves a better place to store their nuts.
The weather has definitely turned colder over the last week, so I have wrapped our echium up in winter protection fleece to protect it from frosts which seem to be threatening us now.
The newly planted spring cabbages have also been protected with winter fleece in one of our wooden raised beds. The raised bed has our Fitted Hoops which supports the fleece and will remain covering the plants for the winter season, giving the spring cabbages room to grow. Although the cabbages are frost hardy the fleece will protect them from any really low temperatures and also stop any birds looking for a quick lunch.
I have started to double dig our beds now that they are starting to be emptied, we have a lot of trees in the garden and roots do travel so these all have to be removed or they will just suck all the nutrients out of the soil and compete with next years crops. This is not an easy task but something that has to be done and will benefit the beds in the long run.
I have sown Barcelona cauliflower seeds this week in the greenhouse they will remain in the greenhouse over winter and be planted out next march to give a nice early crop.