We have had our first frosts this week so I am really glad that our delicate plants are either in the greenhouse or covered up with the winter garden fleece protection. The weather is certainly getting colder but at least we haven't had the floods that are badly affecting the north of the country, we do really feel for those that have been affected.
The autumn king carrots have had a thinning out this week and they are looking very promising. We have been able to eat the babies that were pulled so they weren't wasted, and the others now have plenty of room to grow. I may give them a second thinning depending on how they progress.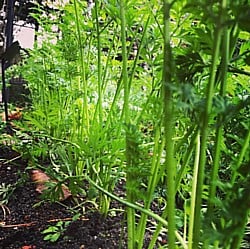 I have started harvesting the leeks, they also have performed well with a good proportion of white stalks of a good size ready to be eaten. The first celeriac was pulled up this week maybe slightly on the smaller size but still very edible, I will leave the rest in the ground for a couple weeks to let the frosts do their magic and enhance the flavour.
Our Longor red shallots arrived this week and have been laid out in the greenhouse for early planting next year.
We have a small bed of asparagus intermixed with herbs in the kitchen garden, it is very new only planted early this year. There won't be any spears for eating for quite a while but as it is a permanent crop, I have put a layer of strulch over the entire bed. This will get some lovely nutrients and minerals slowly releasing into the soil and also help to prevent weeds growing and competing with the plants.
In the rest of the garden, the endless task of removing all the leaves from the garden paths and lawns is continuing but we should have some lovely leaf mulch next year. We are also replacing some of our older roses for some nice new ones. These have been dug out this week and the beds are being prepared. We will be planting the new roses in a slightly different location this time and adding mycorrhizal fungi to ensure a healthy start for the new plants and to help prevent any diseases.