Here at Stephanie's Kitchen Garden this week we will be keeping a close eye on our little seedlings emerging in the heated propagator. So far tomatoes and celery have germinated and these will need to be kept damp, but not too wet as this could put them at risk of damping off. When they have developed their first set of proper leaves, they will be pricked out and potted on into small pots.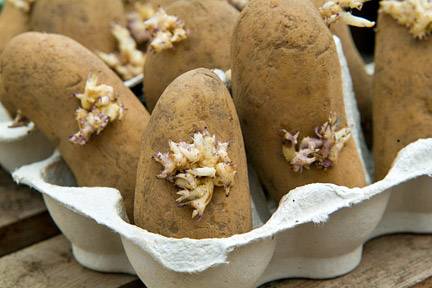 As well as growing our own tomato plants, we will be ordering some organic grafted plants. We grew these for the first time last year in our tomato success kits and were very impressed with the crop.
Our overwintering broccoli crop is now over and we will be clearing these plants and removing the vegetable cage. The cover will be cleaned in hot soapy water and the cage moved to the bed where our brassicas will grow this year. The ground has already been manured and this week we will be applying lime to the soil to ensure the soil PH is perfect for the crops. Brassicas like a firm soil so it s a good idea to prepare the ground well in advance to allow it to settle before planting.

This week we will be sowing salad leaves and basil in the greenhouse. We will also be chitting our seed potatoes ready for planting out at Easter.