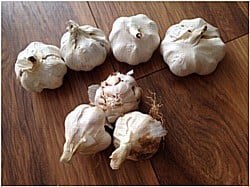 Here at Stephanie's Kitchen Garden this week we will be planting garlic. This is one of our favourite crops and this year we are growing Picardy Wight and Carcassone Wight.
Jo will be ennriching the soil with homemade compost and applying poultry manure to add nutrients. The soil will then be raked to a fine tilth before the garlic gloves are planted just below the surface of the soil. We will then cover the crop with a layer of fleece untill the cloves have rooted. This will prevent the birds from lifting the cloves out of the ground.
The crop will be kept weed free and in February we will apply sulphate of potash in order to try and prevent rust from taking hold. Rust was a problem for us this year and we are keen to prevent this occurring again.
We will also be clearing the runner bean crop and dismantling the bean frame for winter storage. The roots of the beans will be left in ground as they help fix beneficial nitrogen into the soil. The space will be used for our onion crop which is currently growing in seed modules in the cold frame.
This week we will be harvesting butternut squash, broccoli, carrots, spinach, kale and chillies.