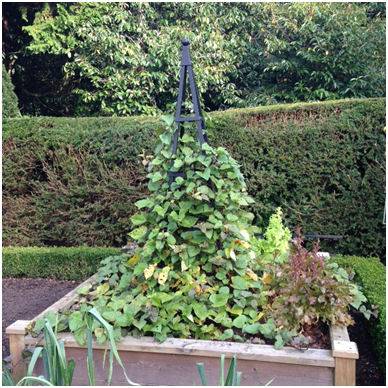 Here at Stephanie's Kitchen Garden this week we will be harvesting our sweet potatoes. This is always an event greeted with trepidation and excitement and I must to confess to having already felt down into the soil to see what size tubers might be waiting for us.
Our sweet potatoes are always one of the most stunning and admired crops in the Kitchen Garden. We grow them in a Superior Raised Bed and train them up an obelisk. The heart shaped leaves have an almost tropical feel and always look great. We have yet to enjoy flowers yet, but one year they may treat us.
Sweet potatoes are harvested when the leaves begin to turn yellow, before the frosts arrive. Last year we harvested them in mid-October but this year they have lasted longer due to the warm conditions. Hopefully this will have given the tubers more time to swell....
With luck I will be posting a photo of a trug-full of tubers later in the week.
This week we will also be harvesting kale, broccoli, leeks and beetroot.