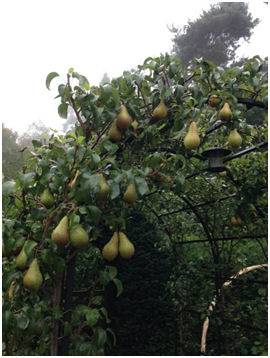 Here at Stephanie's Kitchen Garden this week we will be harvesting the pears from our pear arch. After they have been picked the pears will be put through a fruit press to be turned into delicious organic pear juice. A real treat.
Also this week we will be replacing the glue bands on all our fruit trees. These prevent any pests travelling up into the tree to hibernate ready for next season. We will put bands around the fruit growing supports as well to stop clever bugs using them as a bridge into the tree.
Jo will be digging well rotted manure into the ground where the potatoes grew this year, ready to sow our broad beans in early October. If you are not luck enough to live near farms and are unable to obtain manure, a good dose of compost will do. We will be sowing our broad beans into root trainers rather than direct into the soil as the mice love to pinch the seeds from our soil. As with all our long term vegetables this year, we will be adding root boost to the young plants when they are planted. We have found this to be extremely beneficial for our vegetable plants this season and will be continuing to use it in future.
The leaves are beginning to change colour in the grounds surrounding Stephanie's Kitchen Garden, so we will be putting our leaf cages up this week ready too be filled when the leaves fall. These provide us with lovely leaf mould which we spread around all parts of the garden during the summer to improve the soil.
This week we will be harvesting blackberries, courgettes, broccoli, spinach, tomatoes, peppers, apples, pears and kale.