September is supposed to be the month for bountiful harvests of 'Autumn Fruits' but it has been a bad year for fruit and unfortunately the cold, wet & windy spring put paid to our apple and pear blossom this year. We hear that some of you around the country have had better yield than us so enjoy those lovely fruits and think of us! Now is the time for planting new fruit trees so if you fancy a new apple,pear or quince or even a cherry tree look no further! Whilst mentioning our fruit trees we have applied Fruit Tree Grease to all our fruit trees in Stephanie's Kitchen Garden this month – if you don't fancy the grease these sticky Tree Glue Bands also stop pests such as the female winter moths from climbing up the tree trunk, laying eggs and overwintering in the tree.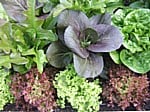 We surprised Lynn with a request for some seasonal photography this month so we ordered a selection of Organic Autumn/Winter Plug Plants including Red Russian Kale, Winter & Spring Cabbages, Mustards and Winter Salads. These plug plants came brilliantly packed and are ready to plant out to create your instant garden. We were really impressed with the quality of these little veg so if you've left it too late to grow your own or simply don't have the time these instant vegetable gardens give impact to your veggie garden quickly and are a life saver!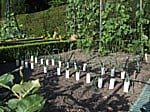 We've collared some of our leeks recently too! To increase the white shank part of the leeks we waited until the leeks had grown a bit and were big enough to take the collars and covered them with 15cm(6") long white plastic tubes (see photograph). It's certainly a bit fiddly trying to get the tubes over the leaves but worth the effort. We did try this last year with a fair amount of success but we left the plants to grow a bit bigger this year before putting on the collars. We've grown a row without collars and some with collars just to compare the size of the leeks. We chose 'Bandit' as this is a late variety so it gives the leeks plenty of time through to next spring to grow and fill those tubes! We'll give you the results when we start harvesting from December onwards. Beware of those snails and slugs though they tend to think that the white tubes are their new homes! Check daily and remove the snails but the Advanced Slug Killer Pellets will definitely help – sprinkle around a couple of times a week for best effect.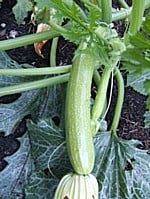 It's been a hive of activity in the garden this month we have been picking runner beans regularly trying not to miss any so they don't set seed; picking courgettes regularly before they turn into marrows (don't turn your back!); cutting back this year's fruiting stems on our blackberry bushes and tying in for next year; harvesting sweetcorn; continuing to feed our peppers and aubergines with a high potash fertiliser (reduce watering now); we've sown green manures in some of our empty beds (we haven't got many) to start to replenish the soil for next year; our last maincrop potatoes the knobbly 'Pink Firs' have been lifted and stored in vegetable sacks - my favourite job of the gardening year over for another year sob, sob!
Lynn has sown more oriental vegetables such as mibuna, mizuna, mustard greens which are brilliant for this time of year, they are a 'cut & come again' so don't dig them up but cut leaves from the outside of each plant – these will provide me with salad leaves throughout the autumn and into winter with the help of a Longrow cloche. Take a look at our range of cloches they are fantastic for extending the growing season just don't forget to water the crops occasionally!
We've ordered our autumn onions (Radar & Electric Red), shallots (organic Jermor & Red Sun) and garlic sets (Picardy White & Bella Italiano) and will be looking out for them to plant next month under fleece protection from the birds.
It's time to think about setting your greenhouse heaters on a frost setting now, you never know when Jack Frost will turn up unannounced! We're giving these Slimline Eco-Heaters a try in our potting shed this year and we are changing our greenhouse heater to one of these efficient Indiana Electric heaters. No chilly plants this year!
Here are some of the jobs we've got planned for October in Stephanie's Kitchen Garden:-
Pull up old tomato plants picking off any un-ripened tomatoes first (they should ripen on a sunny windowsill)
Cut back all our first year 'Gijnlim' asparagus ferns when they die back and add layer of mulch or well rotted manure/compost on top.
Dig over any empty beds and sow green manures in any empty beds. Early in the month sow Broad Bean 'Super Aquadulce' for overwintering.
Plant out Garlic, Onion Sets & Shallots.
Sow Carrots in cold frames.
Clear down any old Pea/Bean foliage.
Empty compost bins and use the contents to mulch bare ground.
Cover any beds not being used with black plastic to protect for wind & rain.
Start raking up those leaves!
We're always here to offer advice and support – go to the 'Ask the Expert' section on the website and Email Horticultural Advisor Lynn Burton with your Kitchen Gardener queries or Pest Control expert Julian Ives and they'll do their best to help!
We're busy tweeting about all things Harrod Horticultural - what we're doing, special offers, gardening tips and advice and you can always use Twitter or Facebook to get in touch with us as well. With our webteam manning the Tweet decks and Facebook site, you can be sure you'll get the best service we can offer!


Our 116-page Autumn 2012 catalogue is out now and it's packed full of gardening ideas, products and solutions to the problems every gardener faces, plus plenty more seasonal ideas to help get the harvest in and keep it fresh!

Happy gardening!