It now feels like it has been Winter forever, and that Spring will never arrive. Sunny days have been few and far between in the Kitchen Garden. Most of February has been cloudy, dark and very cold. Inside our greenhouse, however, Spring has already arrived in force.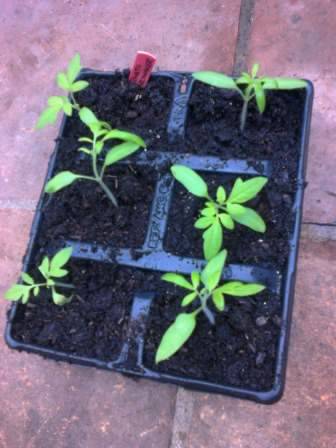 Early in February, Jo sowed tomatoes, peppers, aubergines and chillies in our heated propagator. Within a week, the seedlings had emerged and are now growing rapidly. It's a good idea to get these started early, especially the aubergines as they need a long growing season. We will be sowing these seeds again in early March to ensure we get a succession of crops in the summer. In the middle of February, Jo sowed cucumbers, celery, celeriac, broccoli, spinach,brussel sprouts and rocket and these are already peeping through the soil.
Also in the greenhouse, we have just harvested some delicious forced rhubarb. A real taste of Summer in the middle of Winter. We've also moved a pot of Mint inside and this is now putting on some lovely lush growth, just waiting to adorn some new potatoes.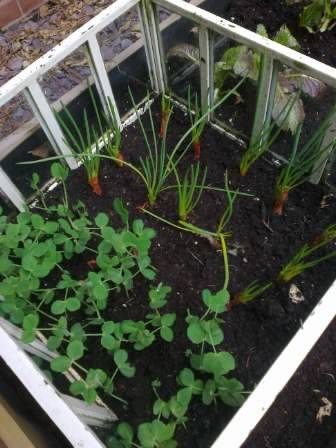 Earlier in the month, we sowed some pea seeds to use as shoots in salads. These, along with a tray of shallots that were brought on in the greenhouse to also provide shoots, are now planted in a manger outside my kitchen door and covered with a cloche. Both make a delicious addition to any salad.
Outside in the Kitchen Garden, Jo has cut the Autumn fruiting raspberries down to the ground and given them a generous mulch of well rotted manure. We will be hanging our Raspberry Beetle Traps up in March which will alert us to the presence of any beetles who have their eye on our crop.
We still have plenty of leeks for harvesting. Some of these have shown signs of rust, so we quickly removed the leaves and disposed of them. Don't put these leaves in your compost heap, as the spores sould pass to future crops.
Back in December, we installed an Indoor Pest Stop Device in our greenhouse, as we were having regular visits from mice. Since we installed it, we have not caught a single mouse in our greenhouse traps. Prior to installation we were catching as many as five a week!. I'm so pleased with this, that we are now putting in an Outdoor Pest Stop as well.
Finally, we have begun chitting our potatoes, one of my favourite Kitchen Garden jobs. I love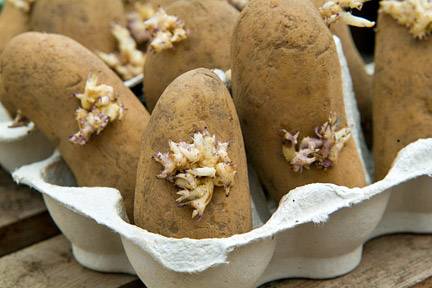 seeing them lined up like little soldiers, slowing coming to life and waiting to be planted. The traditional time for planting potatoes is Good Friday, and I always look forward to spending my Easter weekend planting them in neat little rows.
Here are some of the jobs we've got planned for March in Stephanie's Kitchen Garden:
Plant up some early potatoes in the greenhouse to get an extra early crop.
Divide congested Mint plants. I divide it every year to make sure it puts on plenty of new growth.
Seed sowing under glass: Courgettes, Squashes, Spring Onions, French Beans.
Outdoor seed sowing: Parsnips, Leeks, Early carrots and Cabbage.
Order nematodes ready for application when they are needed.
We're always here to offer advice and support. Go to the Ask the Expert section on the website and Email Horticultural Advisor Jo Blackwell with your Kitchen Garden queries or Pest Control expert Gavin Hatt and they'll do their best to help!
We're busy tweeting about all things Harrod Horticultural - what we're doing, special offers, gardening tips and advice and you can always use Twitter or Facebook to get in touch with us as well. With our webteam manning the Tweet decks and Facebook site, you can be sure you'll get the best service we can offer!


Our 116-page 2013 catalogue is out now and it's packed full of gardening ideas, products and solutions to the problems every gardener faces, plus plenty more seasonal ideas to help get the harvest in and keep it fresh!

Happy gardening!