STEPHANIE'S KITCHEN GARDEN DIARY - FEBRUARY 2012
Well the winter seems to have flown by! The worst gardening month of the year is almost over and our seed sowing frenzy is gathering pace. February has brought us a mixed bag of weather this month to contend with from mild temperatures, to arctic conditions and finally a sniff of spring in the air. But if you are lucky enough to have a heated greenhouse your spring season will be well underway.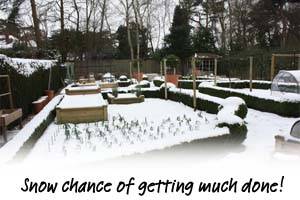 Lynn (our Horticultural Advisor & Kitchen Gardener) started off the month by visiting our local Redwings Horse Sanctuary at Caldecott Hall to shovel and bag up some well rotted horse manure for our raised beds.

Not the nicest of jobs on a very cold winter's day but a very important one if we are to have a good crop of fruit and vegetables this year. Thanks to Ade & Claude for their much appreciated assistance on the day too.

The horse muck has now been spread over our raised beds and is in the process of being dug in – this job having been delayed by the very wintry weather we had earlier in the month – our kitchen garden did look very pretty in the snow. Luckily we were prepared with Fleece and Cloches but the snow and low temperatures did finish off our sprouts and kale bit earlier than we had hoped.

Some of our chitting potatoes were casualties to the extremely cold temperatures and we quickly had to get some replacements in! But no time lost and our first earlies are already underway in Potato Planting Bags in the greenhouse – we have gone for Casablanca, Maris Bard and Colleen, all reliable varieties and firm favourites. With a sprinkle of Organic Potato Fertiliser these should be growing away in the security of the greenhouse in no time.

Polythene sheeting has been pegged down with Tri-Pegs on some of the open ground and the raised beds to warm up the soil in preparation for the first seeds that will be sown or planted out next month under cloches. This makes a big difference to the soil temperature so this job is well worth doing if you want to make an early start. I've also moved some of the Growbags we will be using later into the sun to warm up, the soil can stay really cold in these bags – we wouldn't want to shock our young tomato plants would we!

The greenhouse shelving is starting to fill up already, with seedlings jostling for their space under the Grow lights, a second grow light has been set up to provide more light. ROOTiT heat mats are also providing warmth from below too to aid germination – Lynn remembers the saying from Horticultural College – "Warm bottoms, cool tops!" Our February sowings include our 2nd sowing of Broad Bean 'Super Aquadulce' - our first sowing was in October and are almost ready to go outside under cloches just in case Jack Frost comes calling again.

French Bean 'Cobra' are coming along nicely too, ready for an early crop. Two varieties of Brussels Sprouts have been sown – 'Igor' & 'Nautic' along with Celeriac 'Prinz' which was successful last year. Two varieties of Tomatoes have already been potted on - Gardeners Delight (always a favourite) and an F1 hybrid 'Agro' that we are growing for the first time. Many more different varieties of seeds will be sown in the coming weeks – will keep you posted on these next month.

Our first batch of shallots are in (var. 'Longor') and fleeced as protection from the hungry birds. They are in a much sunnier location this year so we are hoping they will do much better. Our second variety 'Red Sun' will be planted out in March.

A new 8ft x 2 ft Superior Raised Bed has been set up and this will become our new Asparagus bed – the soil has been prepared and we are awaiting delivery of our Organic Gijnlim plants unfortunately we will be waiting 2-3 years to eat the asparagus! Patience is required!

Our pear trees have been given a new Roman Arch Pergola to climb up this month and very stunning it looks too! The pear trees have just started to bud and will benefit from the well rotted manure that was dug in earlier in the month and the feed of nitrogen they have been given. If you haven't had a chance to get hold of some well rotted manure our New Horizon Organic Pelleted Poultry Manure will do the trick. We had a bumper crop last year due to the hot spring we had so fingers crossed for a warm Spring this year!

Here are just some of the tasks we will be busy with next month in Stephanie's Kitchen Garden.

• The busiest month of the year for seed sowing, we have a copious amount of seed packets just waiting to be sown, the greenhouse will be full to the brim!
• Strawberry plants will be planted out under cloches, the soil has been dug over and enriched with well rotted manure. Some of last year's runners have been potted up and put in the greenhouse to get a head start.
• Our new entrance arch will be planted up with climbing Jasmine.
• First earlies, and 2nd early potatoes will be planted out.
• Sow early sowings of Carrots & Parsnips outside in raised beds prepared with sandy soil.
• First sowings of Beetroot will be made.
• Parsnips will be sown if the soil is warm enough (7 deg C/45 deg F).
• Sweet Peas will be transplanted from the Rootrainers to grow up our new Steel Obelisks (Round Column Style, Square Column Style & Pyramid Style)
• Broad beans will be transplanted outside with protection under cloches.
• Planning and sowing for our new Herb Parterre.
And if you intend to spend more time in the garden growing your own, you can pick up loads of handy tips by using the expertise we've got to hand. We're always here to offer advice and support - just e-mail kitchen gardener Lynn, pest control expert Julian Ives and horticulturist, Master Composter and Tweeter Martin Fiddes (also known as our Ask the Expert panel) and they'll do their best to help!

With spring knocking on the door and daylight/gardening hours growing ever longer, why not take arguably the last opportunity to fire up the PC/laptop and join the social media revolution before your seed sowing takes off! Sounds complicated? Well, it's not as all you need to do is click on either the Twitter or Facebook icons below to visit our bustling Twitter feed and Facebook pages.



We're busy tweeting about all things Harrod Horticultural - what we're doing, special offers, gardening tips and advice and you can always use
Twitter or Facebook to get in touch with us as well. With our webteam manning the Tweet decks and Facebook site, you can be sure you'll get the best service we can offer!



And finally, some reading material to while away those long winter evenings! Our 116-page 2012 catalogue is out now and it's packed full of gardening ideas, products and solutions to the problems every gardener faces. There's even a flip-over 19 page Garden Structure section for all your arches, obelisks, plant supports and much more - if you haven't already, request a copy and find it on your doormat in a couple of days time.

Happy Gardening!