Roman Linked Arches Four - Bespoke Design
Free P&P
These Bespoke designed Roman linked Arches are based on our best selling Roman Arch design with a semi-circular span they are particularly suited to climbing ornamentals, fruit trees and are often used as rose arches.
Read More
10 Year
Framework
Guarantee
Exclusive Designed &
Made by us in the UK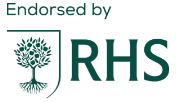 These Bespoke designed Roman linked Arches are based on our best selling Roman Arch design with a semi-circular span they are particularly suited to climbing ornamentals, fruit trees and are often used as rose arches.
It is often the case that a single arch is not enough and these linked arches will certainly create a stunning tunnel effect that is sure to be a real focal point in the garden for many years to come.
Combining our own manufacturing excellence with a design that is definitely 'tried and tested' these metal garden arches are incredible in both simplicity and looks.
As well as the pre-galvanised extra strength 1.5mm thick x 25mm square steel with a matt black powder coated finish and the RHS endorsement, the Roman Arch boasts flush fitting plastic-capped steel connectors and black stainless steel bolts. With numerous fixed width, height and depth options, from 1.2m wide to 3m wide and heights from 2.3m up to 2.95m, you'll have no problems spanning any pathway.
This design has been produced to a bespoke size for one of our customers and we can manufacture this design to meet your garden project requirements. The four arches are 2.84m high and 3m wide and sit 40cm into the ground. The arches are linked with 2mm galvanised linking wire, 24 gripple clips and 96 arch wire joining plates. Each of the four arches is 0.53m apart and the structure spans 4m in total.
Designed to be installed directly into the soil, we provide an additional 40cm on each upright to secure into the ground along with optional floor fixing pins.
Roman Linked Bespoke Design Garden Arches
Endorsed by the RHS
Designed and manufactured by us in the UK
10 year framework guarantee
Available in numerous fixed width and height options
Unique 25mm x 1.5mm wall square section steel framework provides exceptional strength
Steel Framework is fully galvanised and matt black polyester powder coated for a weatherproof finish
Black flush fitting connectors include steel inserts for greater strength and rigidity
Heavy duty black stainless steel bolts
Roman Arch is designed to be installed directly into soil
Roman Arch uprights are an additional 40cm long for securing/digging into soil
Hole former available for easy ground installation
Ideal for roses, clematis, honeysuckle and all climbing plants including vegetables
Create a magical tunnel effect with a series of arches
Ideal for segmenting garden or framing a feature plant or structure
Self Assembly required - Full assembly and installation instructions provided
Ideal for Climbers and Evergreen Climbers - particularly campsis, celastrus, clematis, trachelospermum and actinidia
Standard Roman linked arch sizes are also available
EXTRA OPTIONS & MADE TO MEASURE!
Roman Linked Arches Four-Bespoke Design is unavailable to buy online - please contact our made to measure team for more information and to place an order:-
email - madetomeasure@harrod.uk.com
phone - 0333 400 1444
We are here to help with your Garden Arch Project and can offer a complete Made to Measure Service, we can also offer bespoke colours upon request. We have previously created a Roman Arch with Gate & Estate Fencing, a run of 4 Roman Linked Arches with half lattice and a Roman garden arch with pillars as a wonderful entrance to a garden, in a bespoke design.
Visit our Made to Measure page for more information and to complete our easy online Made to Measure Quotation Form
Above Ground Fixings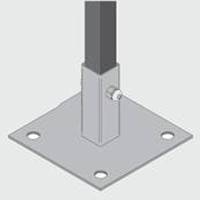 If you wish to fix your Garden Arch above ground on a concrete surface, we can supply surface mount sockets that the arch uprights can then slot into. This option costs approx 25%-30% extra. Please call 0333 400 1444 (8.30am to 5.30pm Mon-Fri) for details or email madetomeasure@harrod.uk.com
Be the first to write a review for this product.