The first of our rhododendrons has come into flower and looking beautiful next to the new laser screen panels, a perfect assimilation between nature and man.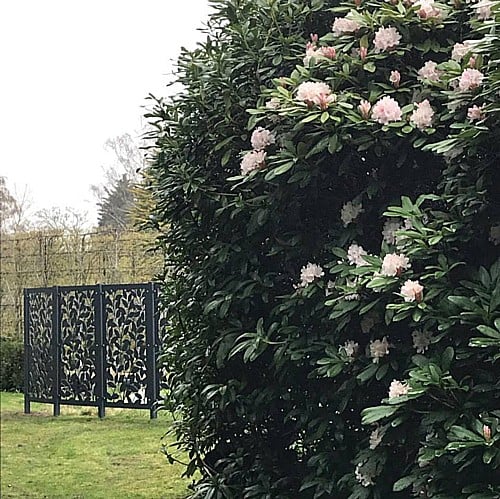 This week the rain came, although much needed and the plants seem grateful it left some gardeners a little soggy.
In the greenhouse the newly sown seeds are all sprouting happily in the propagator and the tomatoes have been planted in their final position. We have assembled a slot and lock frame to give them support as they grow, a great piece of equipment as you can adjust the spacing to suit your needs.
We have taken down all the winter insulation and given the greenhouse a good tidy up and clean, this not only now lets in more light but also prevents cross contamination amongst the plants and helps to keep unwanted visitors away.
In other areas of the garden we have been working on the lawns. First we added feed and weed to the lawns, then we scarified them and removed the thatch. Our next job is to sow some new seed but we will have to wait for the weather to warm up a bit more first.