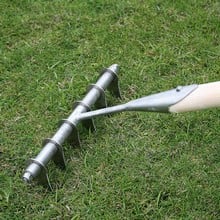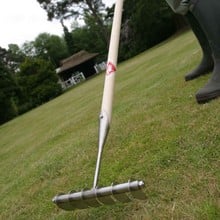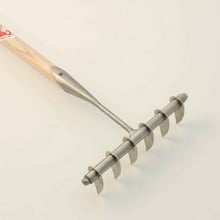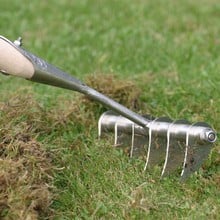 Scarifying Rake
£5.95 P&P
Size:
171cm Overall Length
The sight of an approaching Sneeboer Scarifying Rake is something to make moss and lawn thatch cower and with 6 sharp stainless steel blades which makes easy work of removing stubborn lawn moss - also cutting grass roots to stimulate extra root growth - it's not hard to understand why.
Read More
The sight of an approaching Sneeboer Scarifying Rake is something to make moss and lawn thatch cower and with 6 sharp stainless steel blades which makes easy work of removing stubborn lawn moss - also cutting grass roots to stimulate extra root growth - it's not hard to understand why.
The Sneeboer Scarifying Rake is also an ideal garden tool for creating seed sowing channels, transforming what can be a tedious job into a gardening joy.
Overall length 171cm
Head width 26cm
Tine depth 7cm
6 stainless steel blades cut through moss and lawn thatch
Use in spring and autumn after killing moss
Cuts grass roots to stimulate new growth
Steelwork carries a 10 year guarantee
Handle carries a 1 year guarantee
6th January 2019
This sturdy and well made scarifier certainly does the business, though a certain amount of elbow grease is required. The long handle is excellent though does make it rather heavy.
11th October 2015
I have tried both powered and manual means of scarification of a medium sized lawn. The former was too harsh, initially almost ploughing, but, at least in my hands remained rather uncontrolled. The latter, using a sprung wire rake, was exhausting because of the downward pressure required. This scarifying rake, however, was a delight to use, cutting through the surface and lifting the thatch with relative ease. When using a pulling action only the tines do get clogged with material, but this is readily removed with a pushing action and causes no delay or break in rhythm. The long handle is welcome so the 'angle of attack' can be adjusted to suit. Overall a delight to use, like other Sneeboer tools, and makes a tedious job enjoyable and rewarding !
13th April 2015
Excellent service and excellent tool. It does a great job, and my indifferent lawn is much improved: grass (instead of moss) now growing very well. I drop just one star on 'ease of use', because, although I am fit and completely used to gardening, I personally find it rather heavy and the handle a bit too long for optimum comfort. It would be too hard on the back and shoulders on anything but a very small lawn.
What The Press Say
---
Grow Your Own
2011-11-03
Green Gardener
Featured Product
---
Garden Answers
21st September 2009
Garden Gear: Autumn Lawn (Tools and advice to get your lawn in great shape for next summer)
This is a new take on the normal garden rake. It is designed specifically for scarifying lawns, and has six stainless steel blades that make easy work of removing stubborn lawn moss.
---