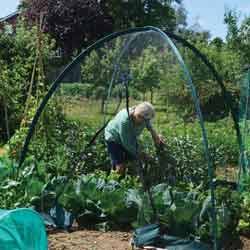 Well it was back to work last week in the kitchen garden and time to tidy up again. The last of the Brussel sprouts have been dug up and the surrounding cage taken down. The cauliflowers and savoy cabbages which were planted in the same area have now been covered with a popadome crop cover. If left uncovered even at this time of year the pigeons will make as tasty meal of what brassicas are growing.
I am continuing to mulch the flower borders with some well-rotted leave mould and will be looking to add some farmyard manure to the vegetable plots in the next few days which will give the young vegetables the much-needed food they will need to grow over the coming months.
As always when the weather allows, I am still weeding and cutting back in the various decorative gardens and there are still a few leaves to rake up and add to the leaf bin.