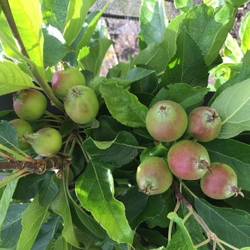 Our apple and pear trees are positively smothered in tiny fruits and, so far, there is no sign of the June drop, where nature thins out the excess fruits on the trees. In the next week or so we will emulate mother nature by picking off fruits to leave the largest two on any spur. As painful as this is, it is necessary if we are to get good sized fruits and to protect the branches from breaking under the weight. We will also carry this out on our peach, apricot and nectarine trees. Last year was our first harvest for these and we were a little light handed with our thinning, particularly on our nectarines. Consequently, we ended up with a crop of small plum sized nectarines. This year we will be tougher!
We have been hit by a possibly huge disaster this week in Stephanie's Kitchen Garden. We lifted a couple of our early garlic to see if they were ready for harvest only to discover what looks like white rot. Further investigation of the remaining garlic plants and their neighbouring onions has shown a devastating loss of the most of the crop. There are a handful of onions that we will be able to clean up and eat but the rest will need to be burned. This week we have sent off some of the plants to the RHS for testing to get a definitive diagnosis. If our suspicions are confirmed, we will not be able to grow any member of the onion family in that soil for at least five years.
Our plan going forward will be to grow these crops in raised beds where we can replace the soil regularly with 'clean' soil and this is what we will be doing with our leeks this week. They were sowed along side the onions so we want to remove them from the affected soil as soon as possible to avoid them being attacked. We will dig them up, trim the roots and then plant them into a raised bed where we can hopefully quarantine them. Raised beds are great for being able to control the soil you are growing plants into in situations like this and we are keeping our fingers tightly crossed that we can at least have leeks this winter!