It has been a short week after the long Easter bank holiday, a very different Easter to what we are use to as we are still in 'lockdown'. As we still haven't had any decent rain it meant we have to do a lot of watering this week, especially in the kitchen garden.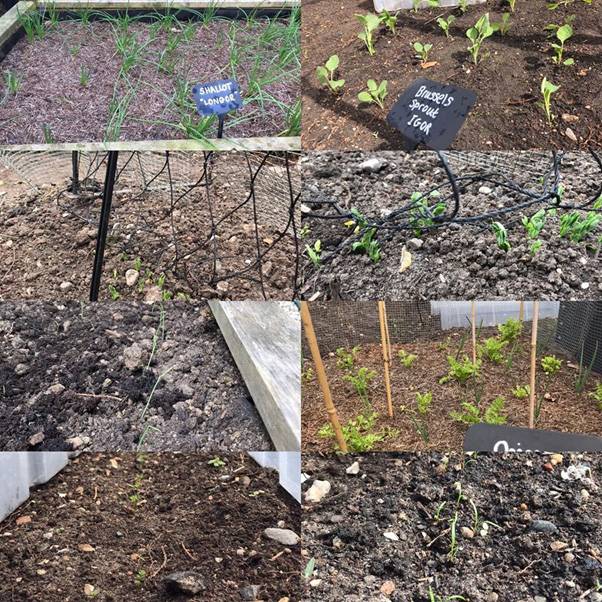 The potatoes haven't started to poke above ground level yet but they still need plenty of water. The sprouts are really starting to show some growth but are being kept under cloches for the time being as the nights are still cold and there is still the chance of an overnight frost. We did get a surprise this week as the peas have started to sprout above ground but something has been having a dig in one spot around them. We have put wire netting around them to give the peas a better chance of survival.
Also, we were delighted to see 2 types of carrot have started to grow, these are going to remain under cloches as well. In the greenhouse there is plenty of life. The tomatoes are growing stronger and taller. The aubergines, cucumbers and peppers are joining the race as well.
In the propagator that is turned off, there is broccoli, cabbages, squashes and cosmos heading skywards. In the cold frames outside cabbages, cauliflowers, peas and lettuces are growing steadily and it won't be long before these can be planted outside in the vegetable plots.
Elsewhere in the other gardens the weeds are behaving and giving us a break from weeding at the moment. There are various varieties of tulip now coming into flower and its lovely to see the different colours as they sway in the breeze.
One of the lawns is having treatment as it is thick in moss which has been a big problem this last winter, probably due to the mild weather and the amount of rain we had. The 4 in 1 is left on for 7 days, remembering to water it in if there is no rain and then the lawn will be scarified. This will remove a lot of the moss and weeds and then in 8 weeks we can renew the grass with new seed.
We hope everyone is staying safe,
Happy Gardening!