A Christmas dinner just isn't complete without delicious, roasted parsnips. Creamy, tender and sweet, parsnip roots are perfect roasted, pureed, and used in salads and soups. The good news, this hardy winter vegetable is easy to grow, requires little maintenance and can be used in just about any dish. Parsnips will develop their sweet, nutty flavour when cold temperatures turn the starches in the root to sugar – so leaving them in the ground during a frost will simply just enhance the flavours further.
Did you know? Easily fermented, the parsnip was made into both beer and wine, a practice that continued on the other side of the Atlantic well into the 19th century.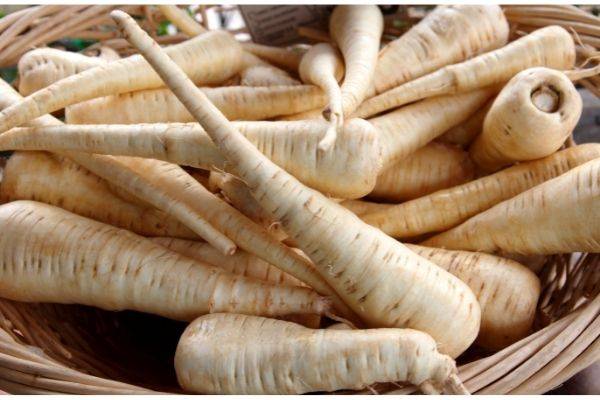 The growing process
Pick your varieties
There are relatively few parsnip varieties commonly available in the UK. To help with your selection, we've listed 5 of the best below:
Gladiator
This superb F1 variety is recommended for light and rich soil and is an excellent choice for the show bench. The high-quality roots have a deliciously sweet, earthy flavour and particularly good resistance to canker.
White Gem
The White Gem produces a uniform crop of medium-sized, wedge-shaped parsnips with smooth, white skin and flesh. A delicious sweet flavour makes this a great variety for roasting or adding to soups and stews.
Albion
With an excellent sweet taste and unusually white colour, there is very little to criticise about this variety. This RHS AGM makes a useful crop for the organic gardener, having been specially bred for its resistance to canker.
Tender and True
This is one of the most popular varieties of parsnip and is very much the gardener's favourite. With exceptional flavour and large roots, this virtually coreless variety is ideal for both the kitchen and the show bench.
Countess
A main-crop variety with good disease resistance, delivering reliable heavy crops of good quality uniform roots with smooth skins. Perfect when roasted, fried, boiled or mashed.
Growing
It takes approx. 120-180 days for parsnips to go from seed to harvest. When planting, make sure the seeds are planted ½ inch apart and ½ inch deep in rows at least 12 inches (30cm) apart. This gives the growing parsnips room to develop good roots. After seedlings appear, wait a couple of weeks and thin the plants to about 3-4 inches apart in rows.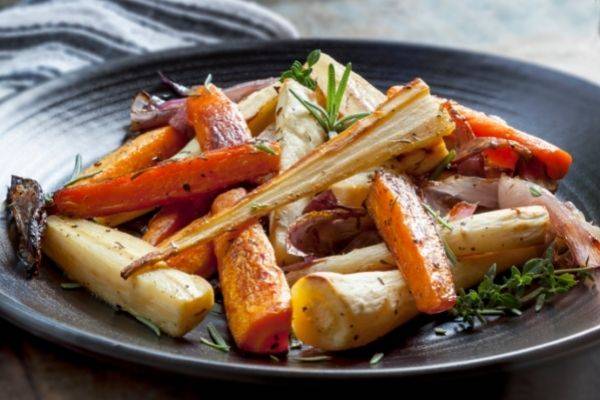 Parsnip care advice
Parsnips prefer to grow in full sun, meaning at least six hours of direct sunlight on most days. However, they can tolerate some shade.
Parsnip leaves contain a sap that may irritate the skin. When weeding around or harvesting parsnips, it'd be a good idea to wear long sleeves and gloves.
Water sparingly to encourage deep rooting and do not feed or add further mulch as rich soil can cause canker in roots.
Weed regularly between rows of parsnips to keep beds weed free at all times. Hand weeding is preferable as there is less risk of damage to the developing roots.
Harvesting
Parsnips require a long growing season. They are typically ready to harvest 3-4 months after planting, depending on the variety. Harvest by carefully digging around your parsnips with a garden fork to loosen the soil. Once the soil is loose, you should be able to simply pull your parsnips out of the ground and gather them up.
To store your parsnips, remove the greens by cutting them off roughly an inch above the crown. Don't wash your parsnip roots, instead brush or wipe off any excess dirt with your fingers. Whole parsnips can be stored for up to 2 months in the fridge. It's worth mentioning, you should only store undamaged, healthy roots. Any that have cuts or bruising should be eaten soon after harvesting.
Tip: Leaving parsnips in the ground during a frost will make them sweeter to the taste.
Other uses for your parsnips
There's much more to the humble parsnip than simply a roasted side dish. We've picked our 4 favourite alternative ways to cook with this versatile root veg.
Spiced parsnip crisps
This easy recipe transforms your earthy and sweet parsnips into a crunchy, spicy snack. Preheat oven to 160°C and slice your parsnips into very thin rounds. Pat dry with kitchen paper, tip into a bowl, and then drizzle with olive oil. Toss with some cumin, coriander and paprika and season well. Arrange the parsnips on a baking tray and roast in the oven for approx. 25 minutes, turning frequently. Carefully transfer the crisps to some kitchen paper to drain any excess oil – they will crisp up as they cool.
Parsnip puree
Parsnips are naturally sweet and not too starchy, which makes for a delicious ultra-smooth mash. Bring parsnips, garlic, cream, milk and butter to a boil. Cover and simmer until parsnips are super soft. Uncover and cook until liquid is reduced by half. Season with salt and puree in a blender until smooth. The puree can be made ahead and reheated when required.
Creamy parsnip soup
Perfect for a chilly night, this satisfying creamy soup is simple but incredibly delicious. Serve with buttered crusty bread for a filling meal. Chop a leek and onion and add to a large pot. Cook for around 10 minutes, stirring occasionally. Add your parsnips and chicken broth and bring to a boil. Reduce the heat and simmer until the parsnips are very tender. Puree the soup until smooth and creamy. Add some milk and gently heat until steaming hot throughout. Season to taste!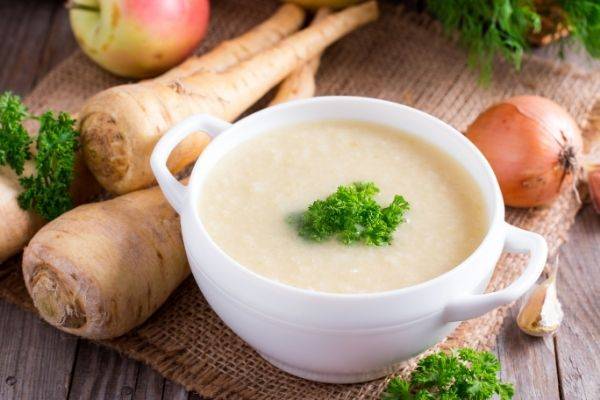 Parsnip rosti
Alongside a roast dinner or a wintry stew, parsnips make a tasty, low-cal alternative to potatoes. Combine grated parsnips, grated sweet potato, garlic, cumin, coriander, a sprinkle of plain flour and a medium egg in a bowl. The mixture should hold together. If it doesn't continue to add flour. Divide the mixture into evenly sized rounds and heat some oil in a large frying pan. Fry each rosti until golden and crisp. Serve warm with a cucumber yoghurt dip.