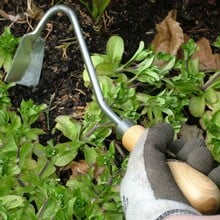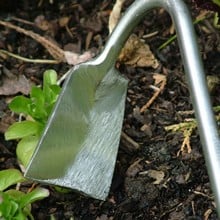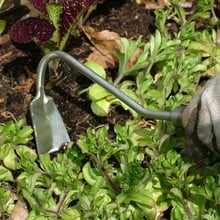 Manoeuvre with confidence through your beds in search of weeds with the easily navigable Sneeboer Hand Hoe/Weeder, before removing the imposters with the 4cm wide by 6cm deep blade.
With a carefully curved 20cm long neck - hand forged in Holland in the traditional Sneeboer way - between the cherry wood handle and the blade, the hoe can easily reach into spaces weeds thought were safe.
Storage is not a problem either; at only 34cm long, the Hand Hoe/Weeder will fit comfortably on any potting shed shelf.
Sneeboer Hand Hoe/Weeder features a curved 20cm long neck
4cm wide by 6cm deep blade
Cherry wood handle
Stainless steel head
Overall length 34cm
Ideal for delicate weeding
Fits perfectly through rows of vegetables
The hoe to use for weeding around seedlings
Easy to store
Steelwork carries a 10 year guarantee
Handle carries a 1 year guarantee
17th July 2015
Bought this for my husband as an alternative to a trowel having watched Monty Don use one on Gardener's World to clear between rows and round plants. Every time my husband uses it he says what a wonderful thing it is - very pleased! Also saw similar tool used in Morocco recently to break up hard dry soil around roses, certainly does the job.
Congratulations you are this months lucky competition winner. Your £20 Voucher will be on its way to your shortly.
31st May 2011
This was a present. The recipient seems pleased with it.
22nd October 2010
Although Sneeboer gardeing tools cost more they are so worth it...this is a fantastic addition. I have many (too many!) flower borders and this has really cut down my weeding time. The blade is ultra sharp and the hoe is easy to use. I am slowly building up my collection of sneeboer tools, which I hope will be useful 'heirlooms' for my kids to use in the future if they enjoy gardening like me. Many thanks to Sneeboer and HH! Best wishes, Kate.
What The Press Say
---
Grow Your Own
2011-11-03
Green Gardener
Featured Product
---
Grow It!
19th August 2008
Harrod Horticultural has recently started retailing the range from this Dutch manufacturer. All their products have a nice hand-crafted rustic look to them that I personally find pleasing. This superbly made hand tool is great for getting into those corners and awkward spots that a conventional hoe cannot reach - and is also excellent for cleaning out chicken houses. Build Quality ***, Value for Money ***, Ease of Use ***½.
---