Home-grown carrots are versatile and full of flavour and texture. They are a popular, long-lasting root vegetable that can be grown in many climates. Equal parts sweet and savoury, carrots add complex flavour to soups and stews, and can be found at the heart of almost every global cuisine. Whether you're a gardening novice or a little more green-fingered, easy-to-grow carrots should be a staple on your veggie patch.
Did you know? Originally, carrots were purple or yellow-skinned, and orange carrots only appeared around the 17th century.

The growing process
Pick your varieties
Carrots are an extremely versatile veggie. They grow well in the vegetable patch, in raised beds, or even in pots on the patio. There is an abundance of varieties that grow well in the UK, so we've narrowed down the list to highlight our top 4:
Sugarsnax
This super sweet variety has a superb flavour and will brighten up any plate with its rich orange colouring. The uniform roots are delicious eaten fresh but will also store well over winter.
Purple Haze
A good quality, tasty Nantes variety with attractive dark purple roots and a bright orange core. Best enjoyed raw as it has less intense flavour and colour when cooked or steamed.
Norfolk
A long established and highly dependable variety that produces outstanding crops of large carrots with a crisp texture and sweet flavour. These high-quality roots can be enjoyed in a variety of dishes or as crunchy, raw carrot sticks.
Rainbow
This unique variety produces tasty carrots in a range of skin and core colours that are all packed with vitamins. They are perfect for adding a splash of colour to dishes.
Growing
Once soil conditions are correct, carrots are one of the easiest veggies to grow. As a rule, carrots grow best in full sun and light, fertile, well-drained soil. If growing in raised beds, they should be at least 30/40cm deep, our 2 tier Standard Wooden Raised Beds would be the ideal depth.
Sow your seeds in shallow drills about 2cm deep. Spacing for carrots is 3-4cm between plants and 20-25cm between rows. You should begin to see them poking through the soil after approx. 17 days.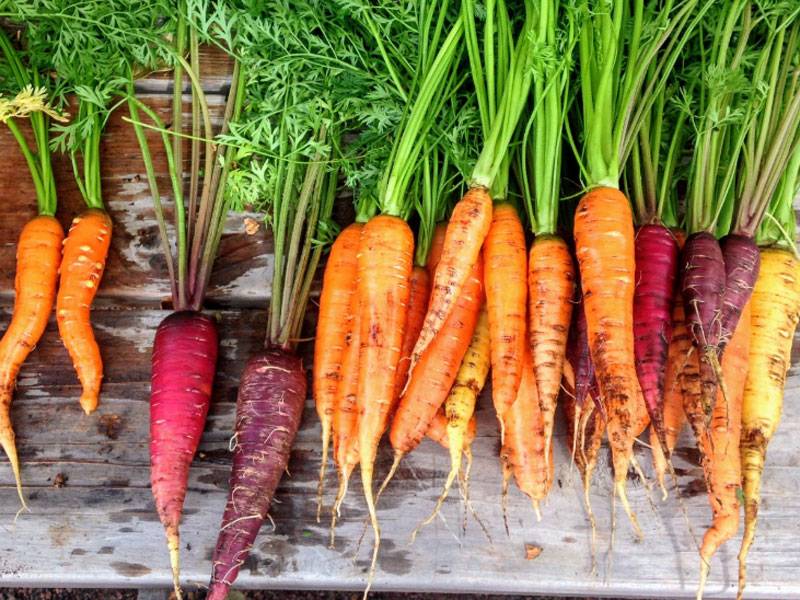 Carrot care advice
Carrots love the heat so will require little watering. They'll only require water occasionally, but never allow the soil to become bone dry.
Carrots dislike being transplanted, so it's best to sow them directly where they are to grow.
Keep carrots weed free for best results. Get rid of them while they're tiny by scraping the surface of the soil. When left to grow, the weed will compete with the carrots for water and nutrition.
Harvesting
Growing carrots can be a bit of a gamble since you can't see how well they're doing until you harvest. Harvesting time will depend on the variety you're growing, but the average is about 50-75 days from seed. You can use your seed packet 'days to harvest' as a guide, but the only true test is to lift one of the carrots and taste it.
Loosen the soil around your carrots with a garden fork before pulling. Once harvested, cut off the green tops 1/4-1/2 inch from the from the top of the carrot and rinse and dry the roots before storage. They will keep in the fridge for 2-4 weeks. Alternatively, they can also be frozen or pickled for longer storage.
Tip: Don't store carrots near apples or pears as they produce a gas that causes carrots to become bitter.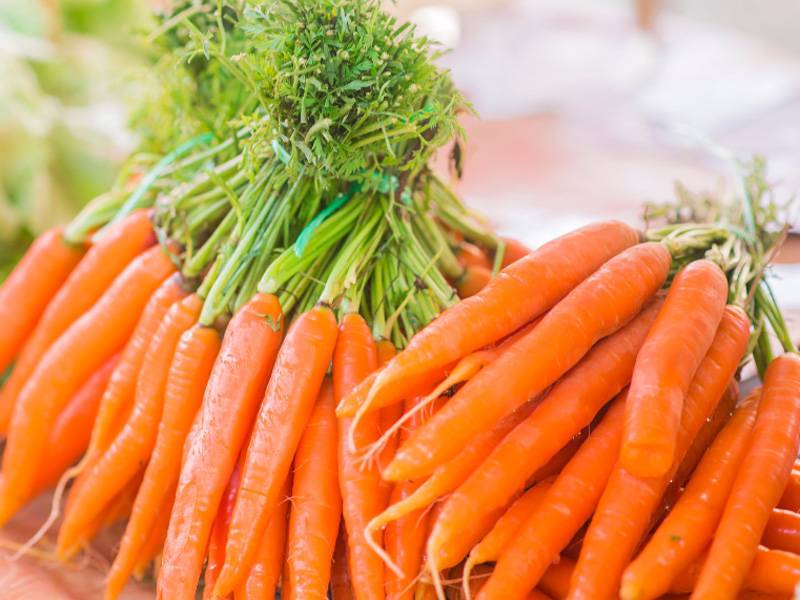 Other uses for carrots
Carrots are naturally sweet, crunchy and easy to enjoy year-round. From sweet to savoury dishes, salads to sauces, cakes and breads to smoothies… the options are just endless.
Carrot fries
These low-fat, crispy fries are a delicious alternative to potato fries. They are also really easy to make too. Simply slice your carrots into 'fries' about 1cm thick, and mix with cornflour and a little black pepper. Toss with vegetable oil and spread in a single layer on a baking tray lined with parchment. Bake for 40-45 mins, turning halfway. Once cooked toss with salt and seasonings of choice.
Carrot loaf cake
Moist and fluffy carrot cake is quite possibly one of the tastiest things you can make with carrots. For the cake, beat eggs in a bowl and add oil, brown sugar, grated carrot, raisins and chopped nuts. Sift in self-raising flour, bicarbonate of soda, ground cinnamon, nutmeg and mixed spice. Combine using a wooden spoon. Tip the mixture into a lined loaf tin and bake for 1 hour. Once cooked, leave to cool on a wire rack. For the icing, beat cream cheese and butter in a bowl. Add vanilla extract, icing sugar and orange zest and mix until the icing is smooth and thick. Spread evenly over your cake and tuck in!
Carrot mango smoothie
This healthy, vibrant smoothie is packed full of nutrition and can be ready in minutes. To a blender, add orange juice, 1 banana, some frozen mango chunks and as many carrots as you desire. Blitz until smooth.
Curried carrot soup
Carrots pair perfectly with spicy flavours – particularly when made into a warming, hearty soup. In a medium pot, heat some olive oil over a medium heat. Add a diced onion and sauté until translucent. Add ginger, chopped carrots, and vegetable broth and bring to a boil. Cover and cook until carrots are tender, approx. 15-20 minutes. Once the carrots are soft, carefully blend until the carrots are smooth. Return the mixture to your pot and add coconut milk and red curry paste. Simmer gently for 10 minutes. Serve with creme fraiche and lots of crusty bread.
Maple-roasted carrots
These are quite possibly the most addictive carrots you'll ever eat. They are sticky, sweet and incredibly moreish. Cut your carrots on a diagonal into 3-inch pieces. Spread your chopped carrots on a foil-lined baking tray and evenly top with butter, brown sugar, syrup and red pepper flakes. Toss to combine. Bake carrots, tossing every 20 minutes or so, until tender and browned around the edges. Transfer to a plate and drizzle with more syrup if desired.