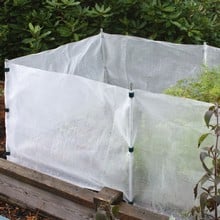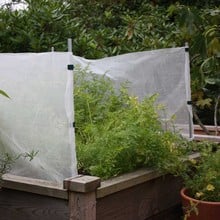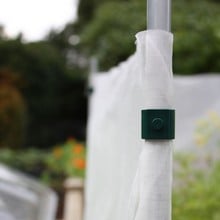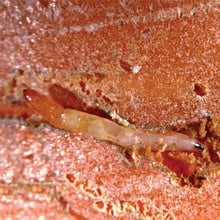 Insect Mesh Pest & Wind Barrier
£5.95 P&P
Size:
7.9m L x 58cm H assembled
Designed as a barrier to stop Carrot Root Fly, this useful insect mesh screen is also a great deterrent for rodents and cats while providing effective protection from wind at the same time. Easy to assemble this useful kit is simple to install and still allows easy access to your crops.
Read More
This useful insect mesh barrier kit is supplied with 7.9m of ultra fine insect mesh and 6 aluminium tubes along with plenty of fixing clips to secure the netting in place.
Designed primarily to protect from Carrot Root Fly, the screen will put a stop to the aerial progress of this perennial pest which causes damage to carrots, parsnips, parsley and celery. Erecting our 58cm high Anti Carrot-Fly Screen will stop the fly in its tracks as this univited insect cannot fly at an altitude greater than the screen. It also acts as a great deterrent for rodents and cats.
The insect mesh barrier provides protection against strong winds for your crops while allowing easy access to your crops for watering and tending.
The Insect Mesh Pest & Wind Barrier will stand approx 58cm high once assembled (with up to 30cm/1ft pushed into the ground)
Kit consists of 7.9 metres of 0.25mm x 0.8mm Ultra Fine Insect Mesh, 6 x 95cm/3ft x 16mm/0.6" diameter aluminium tubing and 18 fixing clips
Aluminium tube supports are simply pushed into the soil approx 30cm/1ft
Netting is secured onto uprights with durable clips supplied
Helps to form a barrier against carrot root fly, flea beetles, rabbits, cats and rodents too
Also ideal as a windbreak
Ensure the barrier is complete with no open ends or sides
Easily taken down for winter storage
Please note: Although the material is an animal deterrent, we cannot guarantee that it is animal/squirrel proof.
11th July 2022
I used this screen round a bed containing veg that animals walk by and chew to the ground. It is mainly roe deer. So far all has been well
16th April 2017
This product was exactly what we wanted and was very efficient in its use.
Want to know more about carrot-fly and how to avoid this pest?

Our horticulturist shares some advice on this common garden nuisance...

"The Carrot Fly Screen which stands 61cm (2ft) high when erected, will also form an effective barrier against flea beetles, rabbits and rodents as well as deterring cats and acting as a windbreak to young seedlings and is easily dismantled and stored when not needed.

Carrot fly is a perpetual pest in the world of carrot growing, and placing a fine mesh barrier around is a common – and very effective – way of preventing the low-flying adult flies from landing in the bed and laying eggs. The mesh fence does not need a roof to cover the crop and as long as the bed is enclosed by a 60cm high screen, the adults should not be able to enter. Erect any perimeter blockade in early May and keep in place until well after the last generation of adult flies emerge in September for complete peace of mind.

You can also companion plant with onions as the carrot-fly is attracted by the scent of pulled carrots, and the strong aroma of onions is enough to confuse it. Try and ensure you sow seed sparsely to avoid thinning the developing crop - this practice should also keep your carrots a secret!

It's also important in any veg growing situation – but especially when carrots are involved – to practice crop rotation, and ensure you don't grow the same plants, or related crops, on the same site for at least three years. Larvae and pupae over-winter in the soil and will make short work of your carrot crop if not!"
What The Press Say
---
Sue Strickland - Freelance Journalist
18th August 2009
Carrot Root Fly
Whereas I still would hesitate to rely on it for 100% control of carrot fly (compared with a complete cover of mesh), I did find the barrier very easy to put up and use - and very sturdy, and rabbit-proof! I sowed coriander and fennel inside it too - and both benefited from the extra shelter as well as pest protection. So I'll certainly recommend it if I get the opportunity.
---
Kitchen Garden Magazine
12th July 2009
What To Buy: Carrot Fly Screen
The problem of carrot fly is a constant niggle for most of us who grow carrots, parsnips and related crops and erecting covers and barriers and keeping them in place can be a bit of a faff. Now however, well-known garden sundries supplier, Harrod Horticultural has come up with a simple kit that could make the job a whole lot easier. The kit contains 8m (over 26ft) of ultra fine insect mesh, six lengths of 16mm (approx 1/2in) diameter aluminium tubing and 18 fixing clips and is simple to erect
---