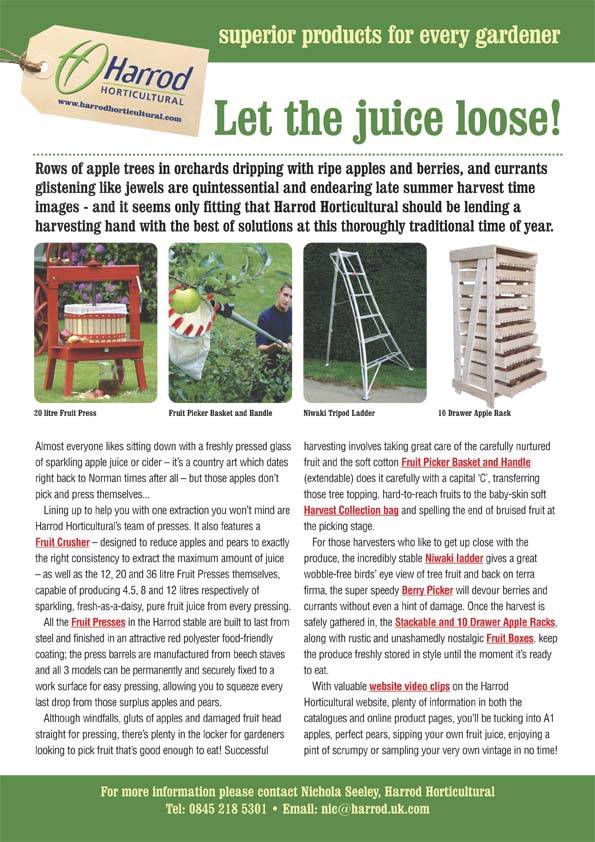 Rows of apple trees in orchards dripping with ripe apples and berries and currants glistening like jewels are quintessential and endearing late summer harvest time images - and it seems only right that Suffolk-based Harrod Horticultural , with their 55+ years of manufacturing experience, should be lending a harvesting hand at this thoroughly traditional time of year.
Almost everyone likes sitting down with a freshly pressed glass of sparkling apple juice or cider – it's a country art which dates right back to Norman times after all – but those apples don't pick and press themselves...
Lining up to help you with one extraction you won't mind are Harrod Horticultural's fruit press team. Latest addition to the squad which also boasts a Fruit Crusher – designed to reduce apples and pears to exactly the right consistency to extract the maximum amount of juice – and 12, 20 and 36 litre Fruit Presses, capable of producing 4.5, 8 and 12 litres respectively of sparkling, fresh-as-a-daisy, pure fruit juice from every pressing, is the 12 litre Spindle Grape and Fruit Press, allowing you to add grape juice and even wine to the home-made drinks list!
All the fruit presses in the Harrod stable are built to last from steel and finished in an attractive red polyester food-friendly coating; the press barrels are manufactured from beech staves and all four models of can be permanently and securely fixed to a work surface for easy pressing, allowing you to squeeze every last drop from those surplus apples and pears.
And although windfalls, gluts of apples and damaged or blemished fruit head straight for a pressing encounter with the fruit press range, there's plenty in the locker for gardeners with fruit good enough to eat! Taking it from the top (literally), successful harvesting involves taking great care of that carefully nurtured fruit and the soft cotton Fruit Picker Basket and Handle (extendable) does careful with a capital 'C', transferring those tree topping, hard-to-reach fruits to the baby-skin soft Harvest Collection bag and spelling the end of bruised fruit at the picking stage.

For those harvesters who like to get up close with the produce, the incredibly stable Niwaki ladder gives a great wobble-free birds' eye view of tree fruit and back on terra firma, the ravenous Berry Picker will devour berries and currants without even a hint of damage. Once the harvest is safely gathered in, the Stackable and 10 Drawer Apple Racks along with rustic and unashamedly nostalgic Fruit Boxes keep the produce stored in style until it's ready to eat.
Video clips on the Harrod Horticultural website are a valuable resource for would-be home fruit growers and pressers and with comprehensive instruction leaflets and realms of information in both the catalogues and online product pages, you'll be tucking into A1 apples, perfect pears, sipping your own fruit juice, enjoying a pint of scrumpy or sampling your very own vintage in no time!