This week in Stephanie's Kitchen Garden we will be retreating to the Potting Shed. Lately we have been experiencing some very wet and windy weather. The days have mostly been dark and grey, with the sun only making an occasional cameo appearance.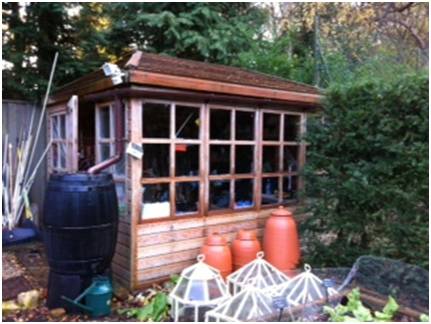 I consider myself to be an all-weather gardener, rarely put off by what the winter throws at me. However, occasionally I get to the point when I am just fed up with being wet and muddy. This type of weather also reduces the jobs that can be carried out, as digging or walking on saturated soil is a definite no-no.

This week, with more of the same weather forecast, I'm off into the potting shed to have a thorough sort out, tidy up and clean. We are a fairly tidy gardening team here in Stephanie's Kitchen Garden, but we still benefit from an autumn and spring clean. It's a good opportunity to take stock of our plant feeds and supplies of pest control. Then we can place our order to restock long before we need them. My pet hate is to reach for something that isn't there, and then have to wait for it.

Our Sneeboer tools are cleaned everyday after use, before being hung in their designated spot. During the winter months, when the weather is too much to bear, we will give them some TLC with our Sneeboer maintenance set. They will be sharpened and oiled, and the handles treated with linseed oil. A hugely satisfying task.

Our windows will be cleaned and the floors swept and we may well finish up by decorating with fairy lights ready for the festive season.