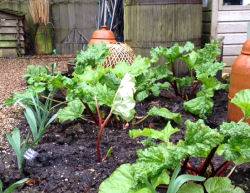 This week in Stephanie's Kitchen Garden, we will be eagerly awaiting the exciting arrival of our new greenhouse staging. Our current staging is very old and, although still structurely perfect, is looking a little tired. We have chosen antique ivory staging which will look amazing in our greenhouse. After last week's efforts, our windows are sparkling clean and we are looking forward to installing the new staging as a fresh new look for the coming season.
This week we will also be planting out our maincrop potatoes. They are chitting nicely and will love the current warm wet conditions. The ground has been dug over and improved with manure over the winter months, so we are ready to go. If they grow as fast as everything else in the garden at the moment, they will soon be peeping through the soil.
Despite the beautful spring weather we have been enjoying recently, the forecast is for cold nights ahead. We are always keeping a close eye on the weather forecast ready to apply fleece or cloches to vunerable crops, such as salads.
We will be continuing to harvest rhubarb this week. Our crowns are putting on a really good show this year and the freezer is already filling up with harvested stems, both forced and unforced. The plants seems to be loving the current conditions, along with the generous dose of farmyard manure they were treated to over the winter. A couple of years ago we divided several of our crowns and it has really paid off. Rhubarb is one of my favourite crops and is so easy to grow.