How to Grow Herbaceous peonies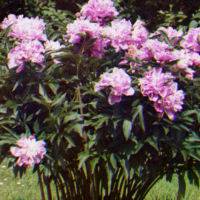 Herbaceous peonies are often considered difficult to grow, but with some basic care they can provide you with glorious colour in the garden for many years to come.
It is preferable to plant bare-root peonies in Oct-Nov while the soil is still warm however you can plant container grown peonies at any time of the year.
Herbaceous peonies are fine in a pot for a few years but their large root system will ultimately outgrow it.
Ideally it is best to plant in full sun or a spot that receives at least five hours of full sun a day. The eyes of the peony roots should be no more than 3-5cm below the soil surface, so do not plant too deep or your plant may not flower well
Most peonies prefer neutral to slightly alkaline soils
Good drainage is essential and when watering try to water at the base of the plant not wetting the leaves
Peonies however are relatively drought tolerant once they are established
Feed with a general purpose fertiliser such as Growmore in the spring but avoid over-feeding with high nitrogen fertilisers
To conserve moisture and suppress weeds, mulch around the crown in Spring with some organic matter such as bark or well-rotted manure but avoid covering the crown itself
Peonies do have a tendency to flop from the heavy weight of their blooms and strong plant supports are usually required
It is advisable to cut the foliage down to ground level once it dies back in the autumn to reduce risk of the plant wilting.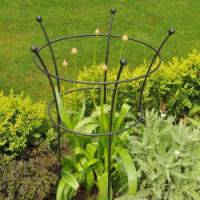 If you want a strong peony support that will look elegant in the border during winter months too once the foliage has died down than a Harrod Trumpet Plant Support certainly fits the bill.
The distinctive shape of the Trumpet Plant Supports will add a real focal point to any garden and add form and structure to garden borders.
The classic matt black powder coated finish or the natural rust finish will create a timeless look for both traditional or contemporary gardens
Exclusively designed and manufactured by us in the UK, these attractive plant supports use quality 8mm gauge steel rods making them very strong and durable which is why we offer a 5 YEAR STRUCTURAL GUARANTEE.