Harrod Border Hoops (Hand Etched)
The Harrod Border Hoops, in a stylish etched finish, offer a practical and attractive solution to protect edges of lawns, paths, borders and driveways. These large hoops are a feature in their own right and will add structural interest to the garden.
Read More
£5.95 Delivery
Need Convincing?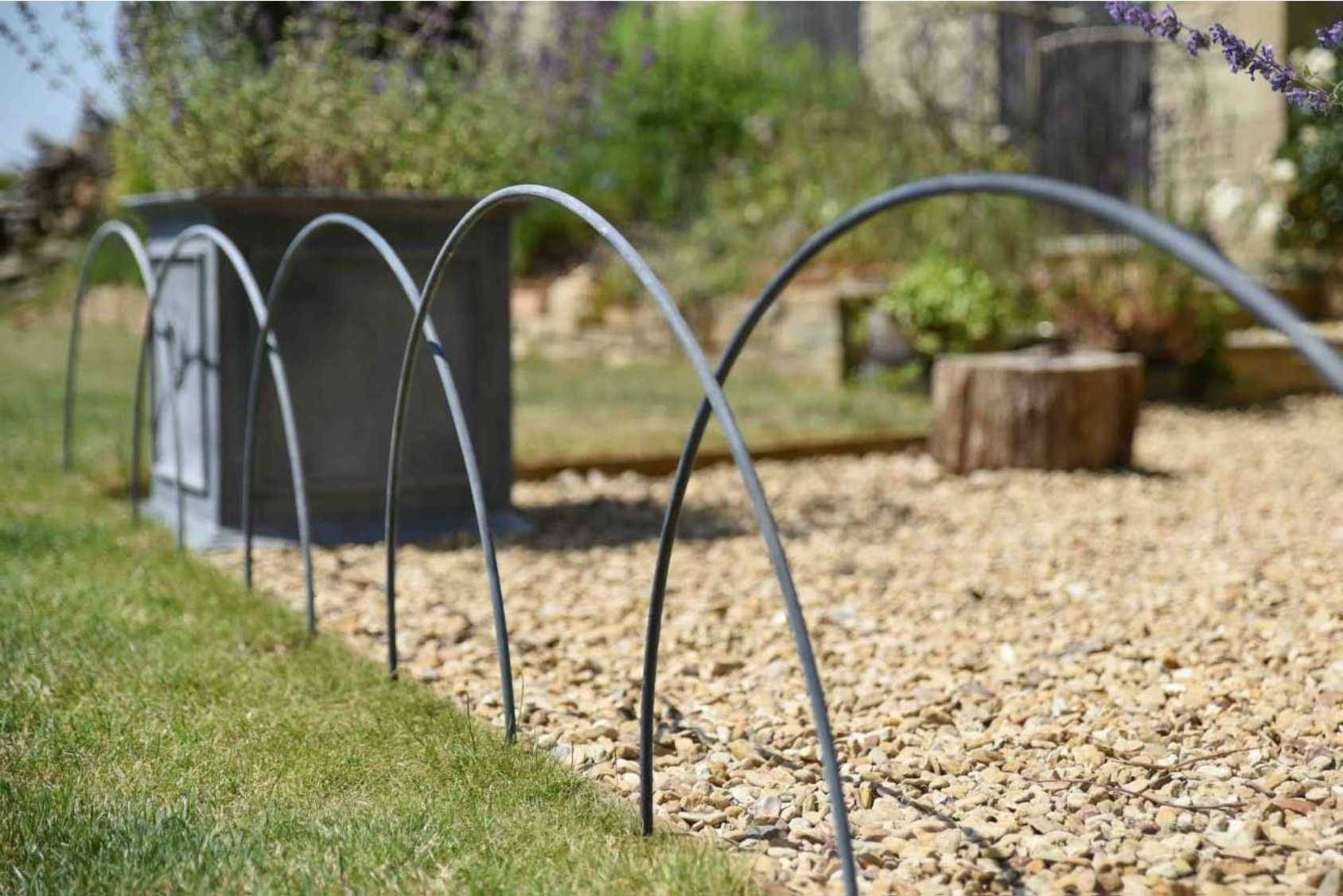 Harrod Border Hoops
The Harrod Border Hoops offer a practical and attractive solution to protect edges of lawns, paths, borders and driveways. These large hoops are a feature in their own right and will add structural interest to the garden.
Each hoop is manufactured using strong 10mm thick solid steel rod which has been hand-etched for an attractive antique finish which develops over time and matches our popular Southwold furniture, planters and supports. Measuring 1m wide the hoops are designed to be pushed 15 cm into the ground and stand 50cm above ground. All hoops have a 5 year structural guarantee.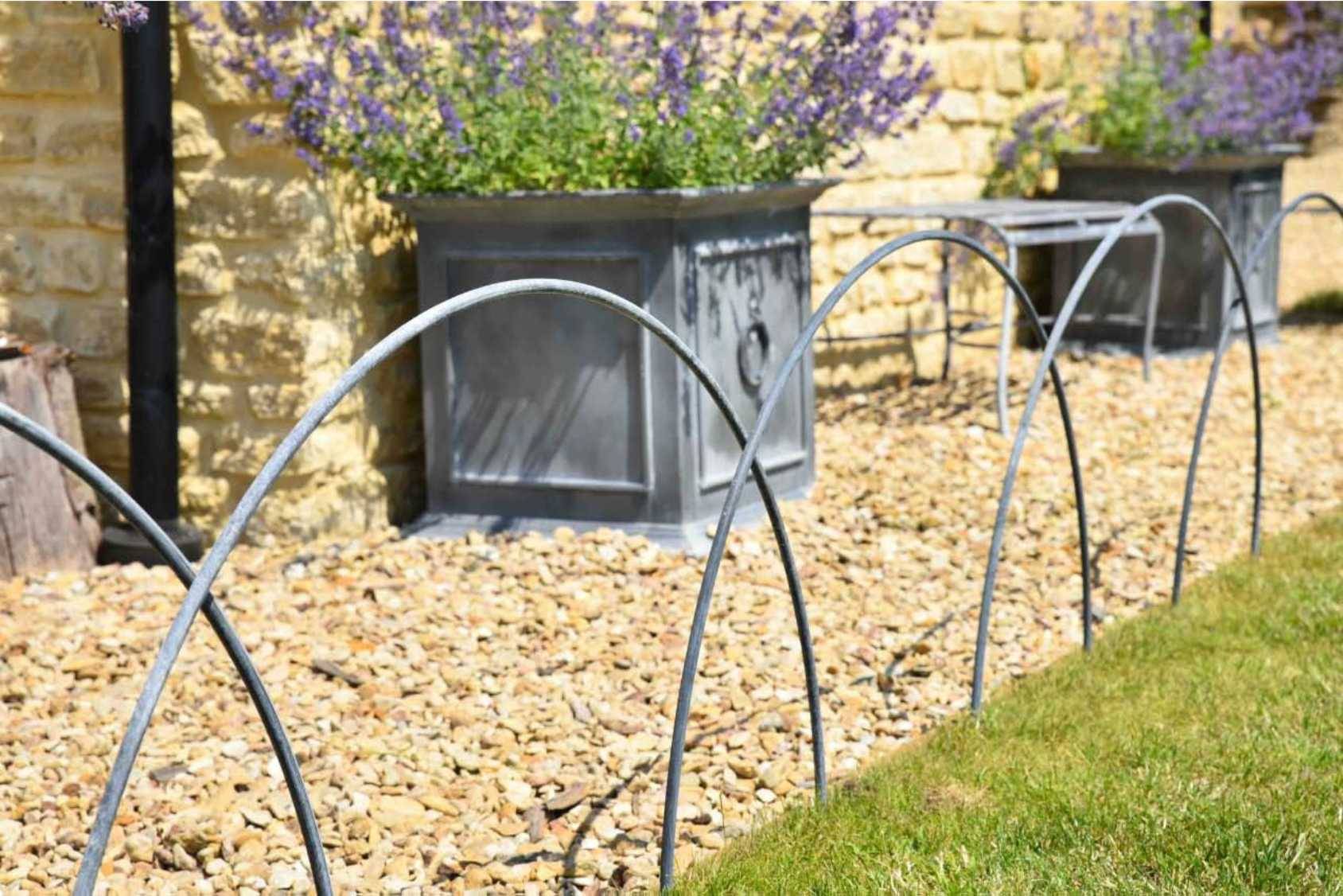 How to use the hoops
These border hoops can be positioned around the garden and have lots of different uses. Protect lawn edges from being trampled and damaged, clearly mark out paths and borders, protect plants or emerging bulbs, provide support to plants to stop them flopping over pathways, mark the edge of driveways to stop cars damaging verges, cover in rabbit wire to protect crops or even drape garden lighting over them to illuminate pathways and possible hazards.
Available in packs of 5 or Save £25 with our Extra Value 25 pack
Exclusive - Designed and manufactured by us in our Suffolk factory
5 year structural guarantee
Galvanised and hand etched finish which develops over time
Solid steel rod 10mm thick
Each hoop measures 1m wide
Designed to be pushed 15cm into ground and stands 50cm above ground
Hoops can be lined up or overlapped as required
Hole former available separately for installation in hard or stony ground
Protects edges of lawns, driveways, pathways, borders, ponds (take care not to puncture liner!), garden steps etc..
Curves and right angles can be achieved by positioning or by bending in a vice
Drape with lights to illuminate pathways at night
Also available in natural rust finish - https://www.harrodhorticultural.com/harrod-border-hoops-rust-pid11080.html
Harrod Border Hoops Hand Etched
Available in packs of 5 or Save £25 with our Extra Value 25 pack.
Exclusive - Designed and manufactured by us in our Suffolk factory
5 year structural guarantee
Galvanised and hand etched finish which develops over time
Solid steel rod 10mm thick
Each hoop measures 1m wide
Designed to be pushed 15cm into ground and stands 50cm above ground
Hoops can be lined up or overlapped as required
Hole former available separately for installation in hard or stony ground
Protects edges of lawns, driveways, pathways, borders, ponds (take care not to puncture liner!), garden steps etc..
Curves and right angles can be achieved by positioning or by bending in a vice
Drape with lights to illuminate pathways at night
Also available in natural rust finish - https://www.harrodhorticultural.com/harrod-border-hoops-rust-pid11080.html