Although many BALI Registered members have not participated in RHS Chatsworth this year, several Registered Affiliate members have sponsored award-winning gardens, achieving two Gold Medals, one Silver-Gilt Medal and one Silver Medal between them.
Themes this year centred on mental health, reconnecting with nature and the creation of biophilic meditation spaces.
The first Gold Medal was awarded to Registered member CED Stone Group who sponsored the Eurtierria garden, one of several Mindfulness Gardens in 2019. Inspired by the cliffs of the River Trent, this garden includes a rammed earth wall featuring large rocks and boulders that jut out into woodland edge-style planting, as well as a deck and water walls.
Another Gold Medal was awarded to Registered members Harrod Horticultural and London Stone who sponsored the Space Within Mindfulness Garden. The garden offered a biophilic meditation space in which to escape the hectic outside world. A moon gate arch created a portal into the 'space within', a central area that provides a symbolic place that offers and mirrors the healing properties achieved from a tranquil inner space of meditation.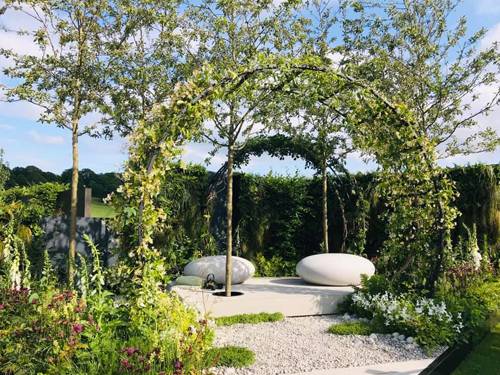 Elsewhere, Registered member Haddonstone, a specialist in the design and manufacturer of ornamental stone, was awarded a Silver-Gilt Medal for their Long Border category garden, The Haddonstone Garden: A Sense of Heritage. The colourful and fragrant planting in the border was designed to encourage the gentle hum of bees and insects, providing stimulation for our eyes and ears. Key Haddonstone pieces have been immersed within the border, adding a tactile element to the design.
Rounding out the gardens where BALI members were involved, Registered member Green Mile Trees sponsored the Silver Medal winning show garden From Darkness to Light which represents a journey undertaken by a person who has experienced a significant trauma in their life, such as illness or bereavement.
Other Registered members in attendance included Gabriel Ash, Honda, Majestic Trees and Ecoscape UK.
RHS Chatsworth Flower Show is held within the beautifully landscaped grounds of the historic Chatsworth House, located in Bakewell. The house itself is home to the Duke and Duchess of Devonshire and has been passed down through 16 generations of the Cavendish family, with their 105-acre garden playing host to the RHS Chatsworth Flower Show every year.
Article courtesy of BALI (British Association of Landscapes Industries)