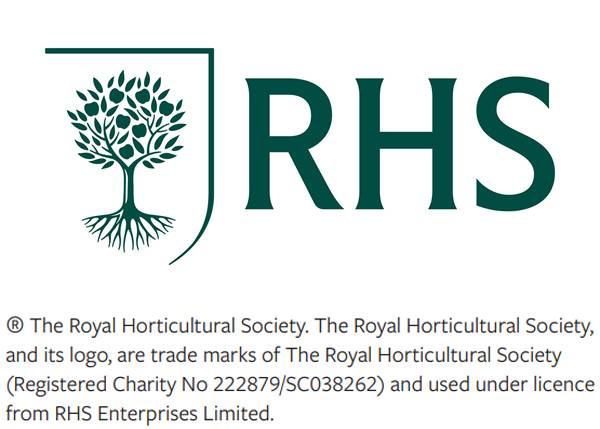 The Moon Gate Pergola creates a truly stunning garden feature with the contemporary round shape ideal for trailing climbing plants and flowers for a fragrant, colourful walkway.
Endorsed by the RHS, each pergola comes with a 10 year guarantee and is based on our popular Moon Gate Arch. This attractive pergola can be any length, just simply select a base unit and then add as many extension kits as you need to create your moon arch tunnel.
The pergola is manufactured from top quality materials with extra strength 1.5mm thick x 25mm square steel section which is both pre-galvanised and powder coated to give a resilient and extremely attractive matt black finish. Strong plastic capped, flush fitting steel connectors along with black stainless steel bolts keep the structure secure.
The Moon Gate Pergola is designed to be installed directly into the soil with 40cm extra on each upright to secure the pergola into the ground. We strongly recommend to make installation easier that you use a hole former.
Moon Gate Pergola endorsed by the RHS
Designed and manufactured by us in the UK
10 year framework guarantee
Unique 25mm x 1.5mm wall square section steel framework provides exceptional strength
Steel Framework is fully galvanised and matt black polyester powder coated for a weatherproof finish
Heavy duty black stainless steel bolts
Designed to be installed directly into soil
Uprights are an additional 40cm long for securing/digging into soil
Ideal for roses, clematis, honeysuckle and all climbing plants including vegetables
Ideal for creating a floral tunnel walkway
Stands an impressive 2.3m high above ground
Measures 2.5m at widest point and 1.57m wide at the base
All measurements are external
Self Assembly required - Full assembly and installation instructions provided
We do not provide an installation service
Made to Measure
If you can't see the size or style you are looking for then visit our Made to Measure section where you will find contact details for our Made to Measure team or you can complete our Online Quotation Form.
Images courtesy of Yvette Smith - Yvette's Design Solutions:-
www.yvettesdesignsolutions.co.uk
design@yvettesdesignsolutions.co.uk
Be the first to write a review for this product.
Below Ground Installation
We allow an extra 40cm/16" on the uprights to insert directly into the ground which should then be concreted into place if soil is soft. We recommend an optional Hole Former to assist whilst our optional Ground Sockets make for an even easier installation and further improve on the already exceptional stability of the arches in soft soils.
If you want to install the pergola above ground on a patio or concrete surface we can supply alternative installation fixings - contact our Made to Measure team on 0333 400 1444 or email madetomeasure@harrod.uk.com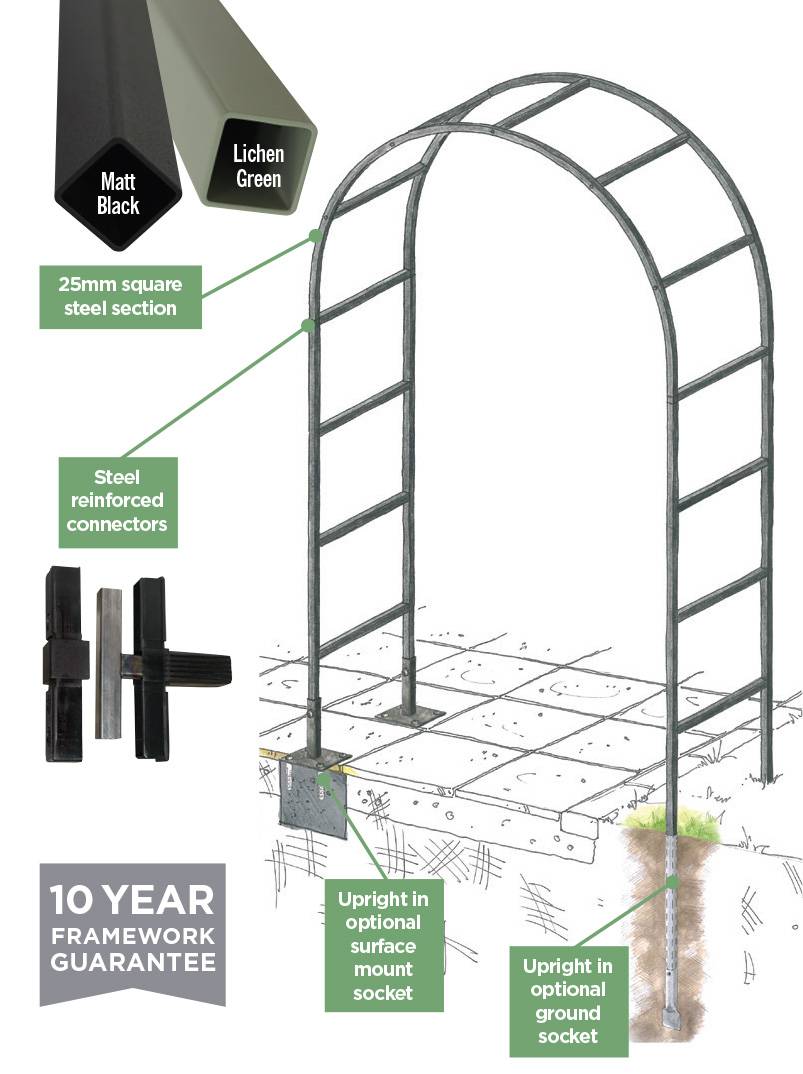 Installing your pergola on hard ground or concrete?
We can supply surface mount sockets for the uprights to slot into. These can be secured with galvanised steel pins for hard ground or special bolts for concrete.

This option costs approx. 25-30% extra.
Call 0333 400 1444 (local rate) for details. (8.30am - 5.30pm Mon-Fri)