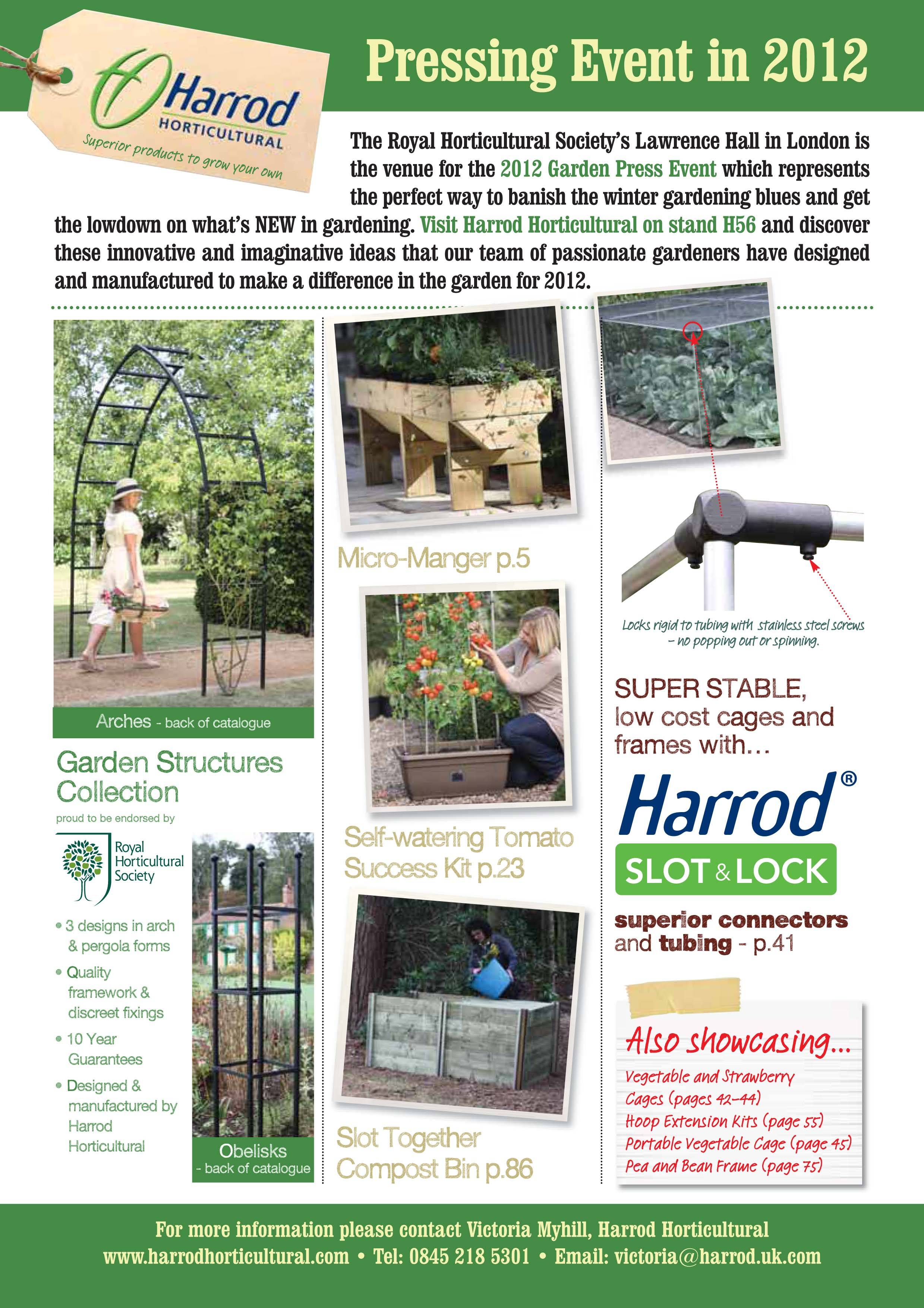 PRESSING EVENT IN 2012!

The Royal Horticultural Society's Lawrence Hall in London is the venue for the 2012 Garden Press Event which represents the perfect way to banish the winter gardening blues and get the lowdown on what's new in gardening. Visit Harrod Horticultural on stand H56, for a unique chance to see the most exciting and innovative developments to their extensive gardening range for 2012!

The Lowestoft-based mail order garden supplies business have developed and manufactured a new exciting range of Slot and Lock Connectors, designed to easily connect aluminium tubing and create plant support frames and vegetable cages which just keep on protecting. The durable connectors are made from hi-tech ABS plastic and once screwed into position won't turn, twist or spin – and the frame definitely won't fall apart!

The Harrod Horticultural team have also used the experience gleaned from their own Kitchen Garden to design and manufacture rigid Slot and Lock bracing stays, bringing a stability not previously witnessed to aluminium support frames and cages. The exciting introduction of the Slot and Lock connectors has also enabled the mail order concern to revamp their vegetable and strawberry cage range along with designing a brand new Tomato Growhouse and Success Kit.

And it's not only crop protection frames and Slot and Lock connectors the family run company will be displaying to the massed ranks of garden media; also on show will be the new Slot and Lock Compost Bins – available as both single bins and additional modules, giving home composters the capacity and flexibility they crave - and a range of stunning black powder coated steel obelisks based on the tried and tested design and manufacturing techniques which make the Harrod Horticultural steel fruit cages arguably the strongest around.

Also on display will be the new space saving micro mangers, hoop extension kits, an Ogee garden arch, a portable vegetable cage and pea and bean frame - both of which perfectly demonstrate the versatility of the Slot and Lock design – along with plenty more to get the media reaching for their notepads.

With over 70 companies exhibiting and 215 gardening journalists attending the 2011 show, the Garden Press Event is fast gaining the reputation as the venue to be at for journalists, editors and garden writers. The 2012 version takes place on Thursday February 2nd at RHS Lawrence Hall, Greycoat Street, London SW1P 2QD and your first destination should be stand Harrod Horticultural on stand H56.