It has been quite a mild week considering we are in winter. It has been very pleasant working in the garden and we have even had some lovely winter sunshine. This has made spring and the new growing season seem so much nearer now.
We have set up our heated propagator in the greenhouse and already sown this years Chilli pepper de bresse and cauliflower goodman, the extra warmth will certainly get things off to a good start.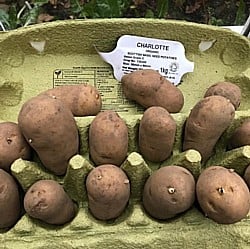 We have made an early sowing of little gem lettuce in a vegetable planter in the greenhouse. These are doing well and growing without any added heat. The grow planter is clearly doing its job and we should have a nice crop of early lettuce.
The broad beans that were sown in the cold frame
have really grown and are now too big to stay in there so have been moved into the greenhouse. The greenhouse isn't heated at the moment so they should be fine in there until we are ready to plant them out.
It is always tempting to plant out early with this mild January weather but with a cold February possibly just around the corner we are not going to risk it yet.
The first of our potatoes have arrived and have been laid out to chit in the greenhouse. This year we are growing Cara, Charlotte, Maris peer, Nicola and Vivaldi.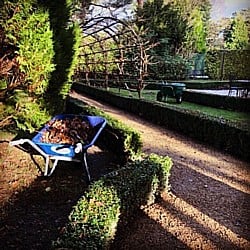 The Rhubarb has started sprouting up again after its short rest so we have covered a couple of plants with our terracotta rhubarb forcers This should give us some nice early, sweet, pink stems to harvest in spring.
We are still harvesting Brussel sprouts, leeks, and parsnips but have now picked the last of the celeriac. We have pulled the first of the autumn king carrots, they are finger sized but perfectly formed and smell fantastic.
In the rest of the garden the main job has still been clearing up the leaves. One of the hedges has also been cut back this week as it had gone a little wild. It looks so much better now and this should encourage lots of new growth to form in the spring.