When life gives you apples… PRESS THEM!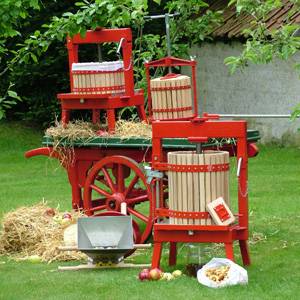 Nothing quite compares to making delicious cider, wine, fruit juice or even apple cider vinegar from the comfort of your own home, with your very own fruit press. Not only will your homemade delights be far healthier and tastier than shop-bought varieties, they'll be a fraction of the cost too.
Pressing is a great way to use up excess fruit from any fruit trees. Whether you have access to a single apple tree or a whole orchard, the amount of fruit produced can be significant. Though fruit pressing is a process rich in history, stretching back to Norman times, things have moved on a bit since then and now pressing your own fruit at home could not be easier.
In addition to the health benefits, which really do keep the doctor away, pressing your own harvests ensures the origin, quality and organic labelling of your fruit. Plus, it's lots of fun for the whole family. From collecting the apples, to using the equipment, to sampling the juice fresh off the press, there's something for everyone to do.
The process
Before you can press your fruit, they'll need to be crushed or milled into very small pieces. You can crush apples/pears manually with some kind of pounding stick, or invest in a fruit crusher. Although pricy, fruit crushers are a worthy investment if you intend to make lots of fruit juice/cider.
Tip: Crushing your fruit will produce three times the amount of juice.
Operating the press is simple. Fill the press cage with a straining bag, which will help catch any pips and seeds, add your pulverised apples or pears and wind the handle to force fresh, pure juice through the beech staves and into the collection tray. For reference, 29kg of crushed apples will produce approximately 22 pints (12 litres) of delicious juice.
With some additional equipment, you can now use your juiced apples and pears to create cider, wine or even apple cider vinegar.
Looking after your press
To ensure longevity, fruit presses should be thoroughly cleaned after every use. Hardened fruit can be quite difficult to remove so its good practice to clean your press as soon as you're done using it. Be sure to use warm soapy water and a brush to remove any bacteria, followed by plain water to remove the soap suds.
Tip: Use any leftover pomace on compost heaps, feed it to your chickens, or even turn it into apple cider vinegar.
More fruit than you can press?
Get creative and make the most of your harvest:
Puree them. Homemade applesauce may sound difficult to make but in reality, it couldn't be easier. Make more than you need and enjoy it poured over pork chops, mixed with yoghurt and spooned over pancakes.
Dehydrate them. Apple chips, or even pear chips will disappear almost as quickly as you make them. They're healthy, cheap and even more delicious when sprinkled with cinnamon.
Go bobbing. Synonymous with Halloween, apple bobbing is an autumn tradition the whole family can enjoy.
Get baking. Channel your inner Mary Berry and use your apples and pears in a variety of sweet dishes. From buttery crumbles and fluffy cobblers to creamy cheesecakes and melt in the mouth tarts.
Get crafty. Get the children involved and use apples and pears as stamps. Cut in half, dip into paints and create artistic masterpieces.
Preserve them. Marinating your fruits in simple sugar syrup is a great way to preserve them for later enjoyment. Add spices such as cardamom, star anise and cinnamon, which complement the flavours of apples and pears.
Share them. If you still have apples and pears leftover after working your way through the options above,donate your fruits to friends, family members and neighbours. Homegrown fruit is far tastier than shop bought varieties and sharing is caring after all.